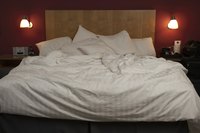 A headboard adds style and finesse to a bedroom and ties the bed in with the rest of the decor. It makes the room look polished. Use upholstery fabric to add color, texture and interest to a homemade headboard. When the fabric starts to look shabby or goes out of style, remove it and update the headboard with new fabric.
Things You'll Need
Tape measure
Plywood
Sandpaper
Foam
Scissors
Spray adhesive
Fabric
Staple gun
Staples
Screws
Drills
Buttons
Heavy-duty glue or needle and thread
Measure the bed for length and height of a headboard. The width should be 1 or 2 inches wider than the mattress and as high as desired.
Cut 3/4- to 1/2-inch-thick plywood into panels. Divide the total width measurement of the headboard by the number of panels to get the right width size. A king-size bed requires a headboard with a width of 76 inches, so cut four panels that are each 19 inches wide. The lumber supply store might be willing to cut them to make it easier for you to transport them home.
Sand the edges of each panel with sandpaper to make them smooth so that rough spots will not damage the fabric.
Cut 1/2- to 2-inch thick foam 1 inch larger than each panel. The extra inch will wrap around the edge once the fabric is installed so there will be no sharp edges. Cut foam 20 inches wide for a 19-inch panel.
Cut fabric so there is enough to wrap to the back of a panel and still have 2 inches of excess fabric. Fabric for the king-size headboard, with 19-inch panels, should measure 21 inches wide.
Spray the front of each plywood panel with spray adhesive and lay the foam on top. Press the foam to fuse it, and let it dry a few minutes before proceeding.
Lay the cut fabric facedown on the floor. Place the plywood on top with the foam side down against the fabric. Center the panel so the same amount of fabric extends from all sides. Pull the fabric taunt, starting at the top, and staple it to the back with a staple gun about 1 inch from the edge of the panel. Continue around the panel, folding the corners flat, until the entire panel is securely covered.
Drill screws through the panel into the wall studs. Use wall anchors if studs are not in the proper place. For long panels, use several screws spaced evenly down the center of the panel, or use one or two screws for smaller panels. Hide the screw by sewing or gluing a decorative button over the top of the screw head.