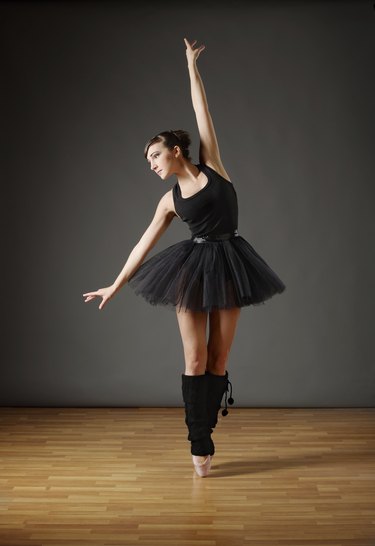 You don't need a needle and thread to make a stylish, adult-size tutu. Making one requires only a few supplies, most of which you probably have around the house. A no-sew, tie-at-the-waist tutu can be customized to suit any personal style, waist size, length or amount of fluffiness.
Things You'll Need
70 to 75 yards tulle on a spool, or 5 to 8 yards tulle on a bolt
2 yards satin ribbon
Scissors
Measuring tape or ruler
Anti-fray sealant
Cutting and Tying the Ribbon
Measure the satin ribbon according to your waist size -- or the waist of the person you're making the tutu for. Tie the ribbon in a bow around the waist to make sure it's long enough, adding an extra 18 inches to the length before cutting. Trim the ribbon to the desired length and dab anti-fray sealant on the ends so they don't fray. Let the sealant dry.
Measuring and Cutting the Tulle
Tulle on a spool measures 6-inches wide Measure and cut all of the tulle into strips around 20- to 24-inches long and leave the width as is. Longer tulle strips make a flatter, skirt-like tutu, and shorter tulle strips make a tutu that's more fluffy. For tulle by the yard, cut it into 6-inch-wide strips first, then cut to the desired length. You'll need about 5 strips of tulle for every 2 inches around the waist. It takes between 70 to 90 strips to make an adult-size tutu.
Assembling the Tutu
Take a strip of tulle and fold it in half. Starting in the center, place the folded tulle under the ribbon. Tie the tulle using a pull-through knot by bringing the two ends of the tulle over the ribbon and through the loop that was created when the tulle was folded in half. Tighten the knot enough to secure the tulle, but leave it loose enough to slide on the ribbon for adjustments. Continue tying the tulle strips on the ribbon to the desired fullness. Leave enough ribbon at the ends to secure the tutu around the waist.
Fluff and Wear
Fluff the tutu and tie the ribbon in a bow off to the side, in the front or in the back. Tighten any loose knots on the tutu. Trim any pieces of tulle that may be longer than the rest.