Things You'll Need
2-inch by 4-inch by 6-foot wood stud

80-60 grit sandpaper

Acrylic paint

Paintbrush

Screwdriver

Mason jar

Wick

Scissors

Hot glue gun

Hot glue

Pot

Wax

Citronella oil

Mason jar hanger

Hook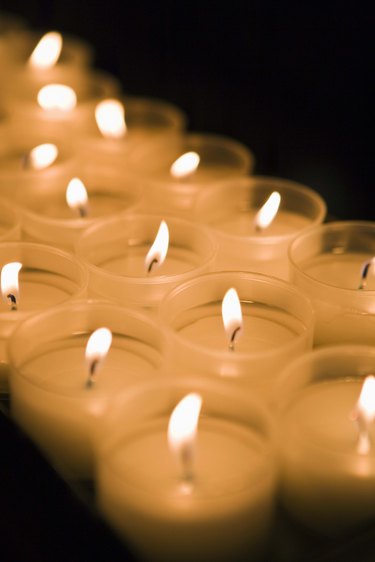 Mosquitos can be an annoying backyard pest, turning an evening picnic into a nightmare of itchy bites. While bug spray can repel mosquitos, citronella candles can create a romantic atmosphere while keeping the buzzing pests away without the stickiness or unpleasant smell that can accompany sprays. Citronella torches have become a common feature at outdoor parties, but if you want something a little more unique, try creating your own torches using Mason jars.
Create the Pole
Step 1
Sand the top and the base of the wood stud using a medium grit sandpaper to prevent splitting or slivers in the wood.
Step 2
Paint the wood pole using acrylic exterior paint. Since the pole will be used outside, painting the wood will protect it from the weather.
Step 3
Sink the pole into soil or grass, at least 1-foot deep. If the soil is firm, wet it using a hose or create a hole by working a screwdriver or metal weed puller into the soil.
Making the Candle
Step 1
Cut a piece of wick as tall as your Mason jar. Dab a piece hot glue on the end of the wick and press the wick to the inside base of the jar at the center of the jar. Allow the glue to dry.
Step 2
Place pieces of wax around the wick in the jar. If you would like to add color to the wax, place a few crayons in the color you are using in the jar.
Step 3
Fill a pot of water a few inches deep with water and place it on the stove with the heat on medium-high. Place the Mason jar in the water, but do not allow the jar to tip over. Keep it upright by holding the edge using a pair of tongs.
Step 4
Allow the wax to melt in the jar. Once the wax has melted completely, stir it to work in the color and remove any lumps. Add a few drops of citronella oil, which can be purchased at a health food store, to the wax melt and stir it in completely. Remove the jar from the water bath and allow it to cool completely.
Attach the Jar
Step 1
Slide a Mason jar hanger around the body of the Mason jar, resting it under the lip of the jar. If desired, you can glue this in place with a dab of hot glue on each side of the hanger.
Step 2
Screw a hook onto the side of the pole about 1 inch down from the top of the pole by screwing in wood screws into the holes of the hook plate.
Step 3
Hang the Mason jar from the hook using the wire hanger and light the candle.