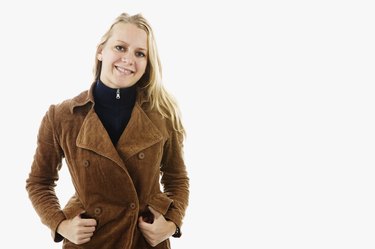 It might be your favorite color and made in a trendy style, but if a jacket is too loose to fit your body, it's not going to look its best when worn. You can tailor an over-sized jacket or coat at home in just a few steps. Using some basic sewing skills, re-size the garment to turn a really loose jacket into form-fitting outwear.
Things You'll Need
Pins

Needle

Thread

Scissors
Step 1
Flip the jacket inside-out and try it on as you normally would wear it. Decide how much tighter you want it to be.
Step 2
Gather the fabric of the jacket at its side seams until you're holding it at the desired size. Stick pins along either side to hold the new fit in place. Ensure the pins are lined up, either in a straight line or following the curves you wish to create in the jacket.
Step 3
Stretch out one arm and decide how much tighter you want the sleeve to be. Collect the excess fabric along the sleeve's seam. Pin a line where you want the new seam to be. Flex your arm back and forth to ensure the new fit allows enough room for movement. If not, create a slightly larger fit. Repeat the process on the other arm, ensuring both sleeves will be the same size when finished. Carefully take off the jacket.
Step 4
Sew along the pinned lines of the jacket's side and arm seams, either with a sewing machine or by hand. Ensure you make tight stitches that will hold while when the jacket is worn. Remove all of the pins.
Step 5
Cut off the excess fabric extending off of the seams using a pair of sharp scissors. Leave about a 1/4-inch of material extending after the sewn lines. Be careful not to cut into the stitches.
Step 6
Turn the jacket right side-out and try it on.