Things You'll Need
Similar color string

Glue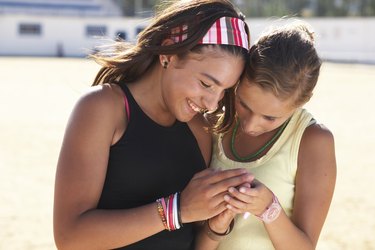 Friendship bracelets are made from woven fabric such as hemp and embroidery floss. The bracelet is tied around the ankle or wrist and represents the bond of friendship. Typically, the friend wears the bracelet until it completely falls apart. Weaving a friendship bracelet can be a fun and creative way to express your friendship. If a string snaps while making the bracelet, it can be a real problem,. You might have to start the process over. If you do not have the time to start over, use other methods to repair the string.
Step 1
Cut off a similar length and color piece of string as the broken one in the friendship bracelet.
Step 2
Tie a double knot with the new piece of string and the broken end of the old one. Pull the two pieces apart to tighten the knot enough so it will be secure. This will also make the knot smaller.
Step 3
Apply glue or clear fingernail polish to the frayed edges of the broken string to keep it from further unraveling.
Step 4
Continue threading the friendship bracelet as normal, making sure not to apply too much tension to the string so the knot does not come undone.