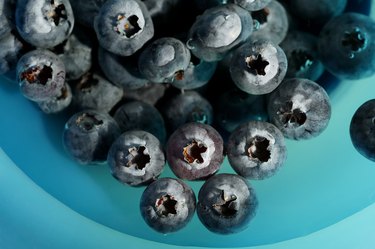 Removing pesticides from blueberries -- as well as from all fruits and vegetables -- relies more on friction than a chemical cleaning agent. According to the The Connecticut Agricultural Experiment Station, simply rubbing produce with your fingertips while rinsing it under cool water for 30 seconds removes more pesticide residue than vegetable detergents and rinses. However, there's a case to be made for rinsing blueberries in a 10-percent vinegar-and-water solution; it reduces bacteria by about 90 percent and surface viruses by about 95 percent, according to a 2003 study, conducted by the University of Florida.
A Vinegary Solution to a Dirty Problem
Before you rinse the blueberries, rinse them in a 10-percent vinegar solution. Mix 1 part white distilled vinegar and 3 parts water in a food-grade container or bowl; you need about 3 cups of water and 1 cup of vinegar for 1/2 pound of blueberries.
Add the blueberries to the vinegar solution and let them soak for 5 to 10 minutes. Drain the blueberries in a colander and rinse them under cool running water for at least 30 seconds while using the friction of your fingertips to clear away any pesticide residue.