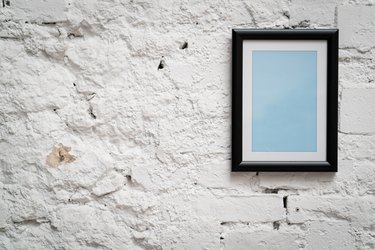 As a design element, nothing lends a more rustic feeling to a room than a brick wall. The history of those bricks and the families they have observed can be enhanced by artwork reflecting the personalities of the current occupants.
Hanging pictures on a brick wall is possible without drilling holes into the bricks. Devices for hanging pictures, mirrors, photographs and decorative elements have been created, and all can be used without being invasive and damaging the bricks. They also can be removed without harming the original bricks. Plaster walls can also benefit from these hanging suggestions since the plaster can crack when nailing picture hangers into it.
Preparing the Bricks
Remove any furniture from the front of the brick wall. If the mortar is rough and level to the brick face, you may want to "point" the mortar to create an even and depressed seam between the brick and the mortar. Wipe down the brick face to remove any dust that accumulated and let it dry before continuing.
Using a Picture-Hanging Rail
Running a picture-hanging rail across the ceiling level to the brick wall is a system used by many museums. It preserves the walls and allows the flexibility that is necessary for hanging multiple pictures. Recessed ceilings use a top rail, while flat ceilings use an up rail.
Hanging Brick Clamps
One of the easiest systems for hanging pictures on a brick wall is the brick clamp or clip. Be sure that the mortar is well-pointed behind the brick in order to create a ledge for the clamp. After measuring the depth of the brick, purchase a clip that coincides with that depth. Also measure the height of the picture. Hang the clamp on the top of the chosen brick. If the object is over 30 pounds, use several clamps.
Challenges of Adhesive Hangers
Unless your bricks have an even surface, adhesive hangers won't work. You may have to sand the brick to create a surface for the hanger to grip properly. Painted brick is the best for adhesive hangers. Peeling the plastic off the back of the hook allows it to adhere to the brick, and doing the same on the back of the picture hook gives you a hanging system without defacing the brick.
Another adhesive option is double-sided industrial tape. This works on an even surface, such as painted or sanded brick. Be cautious of the weight of the object, as the grip can loosen, and your artwork may end up on the floor. Placing a sofa as a cushion for falling objects is one way to protect the art – but not the household member.
Securing the Art
One hanger may not be enough if the artwork is heavy. If possible, string several hooks across the brick and position the hanger wire into all of them. Do not exceed the recommended weight for each type of hook.