Exposed brick adds an attractive architectural feature and can provide a blank canvas waiting for adornment. Unfortunately, hanging artwork and family photos on the wall usually involves drilling a hole in the brick, which can cause breakage or require the brick to be replaced altogether. There are several alternatives, from poster glue to removable hangers, that allow you to display treasured family moments and works of art without damaging your brick walls.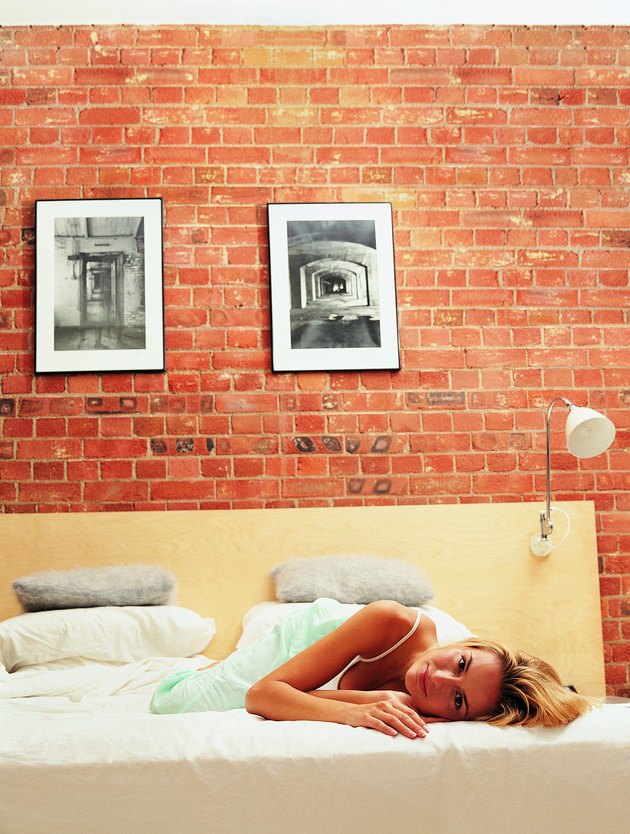 Things You'll Need
Picture-hanging strips

Brick fasteners

Poster putty

Hook-and-loop adhesive panels
Step 1
Hang heavier pictures or decorative mirrors with picture-hanging strips. The strips attach to the wall without leaving behind an adhesive residue. Weigh the picture or mirror and check the strip's packaging for the weight restrictions, which generally are not over 5 pounds.
Step 2
Install brick fasteners on the wall. The fasteners clamp onto the brick and allow you to hang pictures, artwork and photos without drilling holes. Measure the height of the brick to locate the correct size brick fastener.
Step 3
Hang lightweight pictures or posters to the brick with poster putty. Place a small ball of the putty on all four corners of the poster and center it on the wall.
Step 4
Attach pictures to the wall with hook-and-loop adhesive panels. You adhere one panel to the brick wall and apply the other to the back of the picture or photo. The two sections are pressed together to create a tight bond that doesn't destroy the piece or your brick wall.
Tip
Wash the walls with soapy water and allow them to dry to ensure that any adhesive hangers, including the strips and putty, effectively adhere to the brick.