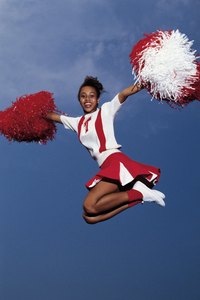 Boost the morale of everyone you meet with a kid's cheerleader pom pom craft. Whether for a Halloween costume, football game or serious cheerleading meet, homemade pom poms are an inexpensive alternative to store-bought creations. Ribbon makes up the top of the pom poms and the handles are fabricated with cardboard. Your kids will be cheering you on as you help them with this simple craft.
Things You'll Need
50-foot spool of curling ribbon
Scissors
4 rubber bands
Cardboard
Electrical tape
Wrap the curling ribbon around your hand to your elbow as if you were wrapping an extension cable. These form the top of the pom pom. Continue wrapping until you have wrapped half of your 50-foot spool.
Cut the ribbon off from the spool with scissors. Cut one end of the loop you formed when wrapping the ribbon around your arm while holding the other end.
Pull one rubber band through the cut ribbons until it reaches the center of the ribbons. Fold all the ribbons in half at that point. Wrap another rubber band at the fold to secure. Repeat Steps 1 through 3 to form another pom pom.
Cut two pieces of cardboard that are approximately 2 x 3 inches with your scissors for the handles. Fold each cardboard piece in half lengthwise.
Push the cardboard through the rubber band at the fold of the pom pom so the fold of the cardboard meets the rubber band. Repeat with the other piece of cardboard. Wrap each cardboard handle in its entirety with electrical tape to finish.