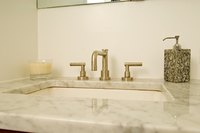 If you don't like the idea of having to seal your countertops periodically but still want the protection of a non-porous surface in your kitchen, Corian might just fit the bill. Corian is a solid surface option for countertops, sinks and backsplashes. When you order Corian, the manufacturer can take the dimensions of your counter space and provide you with a single sheet of Corian that fits your needs, eliminating the need to join separate pieces. While you may not need to caulk between your countertops, you must still caulk areas where your counters meet the adjoining wall.
Things You'll Need
Move everything from the countertops into another room to protect your belongings from getting damaged or being in the way.
Snip off the tip of the tube of silicone caulk, using scissors. Cut at a diagonal in either direction.
Pull the rod at one end of the caulking gun all the way back. Insert the tube of caulk into the caulking gun and snap the tip of the tube into place at the end of the caulking gun.
Position the tube's tip in the area between your Corian countertop and the wall. Hold the gun at a 45-degree angle.
Squeeze the trigger of the caulking gun and move slowly along the space, expressing caulk as you go. Continue caulking until you complete the line.
Apply pressure to the caulk line with a damp sponge. Tool the caulk line by moving the sponge down the line of caulk, using steady pressure. This thins the caulk and leaves a cleaner, even caulk line.