Things You'll Need
Yarn

Crochet hook (size determined by project instructions)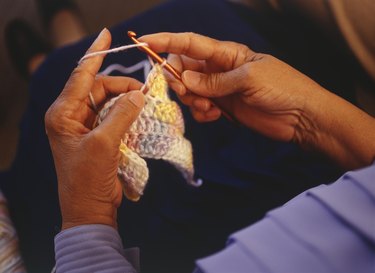 Sometimes varying your crochet stitches slightly can help you create intriguing and attractive results in a crochet project. For example, by reversing and altering the standard technique for crocheting the double crochet stitch, you create a different stitch that makes a beautiful edging to your finished work. Make a twisted double crochet stitch by changing a few key steps in the way you form the stitch.
Step 1
Yarn over the crochet hook as you would to begin a standard double crochet, but hold your work to enable you to work toward the right instead of toward the left.
Step 2
Insert the crochet hook up into the stitch to the right and yarn over the hook again.
Step 3
Pull one loop through to leave three loops on the hook. Yarn over once and draw through two loops on the hook. Yarn over one more time to draw through both loops on the hook.
Step 4
Repeat the same process to make as many twisted double crochet stitches as desired.