Things You'll Need
Ribbon

Scissors

Cloth measuring tape

Strapless garment

Needle and thread

Pins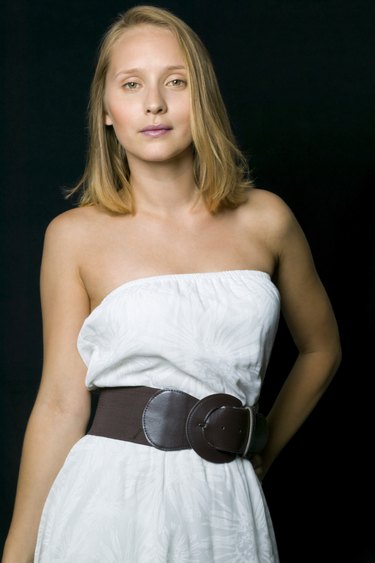 A strapless dress can leave a girl feeling insecure. Adding straps made out of ribbon can dress up the dress and provide added security. Ribbon is an ideal material for straps because the edges do not require finishing or stitching and it comes in a variety of sizes and colors to match almost any garment.
Step 1
Try on the dress and measure the distance over the shoulder from the front of the dress to the back of the dress where the straps will attach.
Step 2
Cut two pieces of ribbon 3 inches longer than the measurement.
Step 3
Pin the pieces of ribbon to the inside of the dress, leaving 1 1/2 inches of ribbon on either end.
Step 4
Fold the loose ribbon that is inside the dress upward into thirds so that there are three layers of ribbon 1/4 inch from the top of the dress and pin them in place to the inside of the dress. Do this to all four ribbon ends.
Step 5
Stitch around the folded ribbon to attach the ribbon to the dress. An "X" can be stitched across the folded ribbon for added security, if desired.
Tip
Four pieces of ribbon can be used to create straps that will tie at the top of the shoulders. Two longer pieces of ribbon can be used to create a halter dress that will tie behind the neck. Invisible thread can be used on print fabric to hide the stitching.
Warning
Be sure that the straps line up from side to side and front to back to avoid a lopsided appearance.