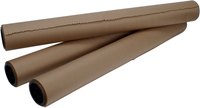 Brown colored butcher paper is an ideal material for many crafts, but most of all for making a life-size tree. Life-size trees can be used for a variety of educational and social projects, from decorating a classroom bulletin board, to providing a visual aid for teaching plant science, or as a party decoration. Choose brown butcher paper over other colors to match the brown bark of a real tree trunk.
Things You'll Need
Brown butcher paper
Scissors
Masking tape
Adult helper
Pencil
Stapler or double-sided tape
Green tempura paint
Craft paintbrush
Cut off a 8-foot piece of brown butcher paper. Cut from a roll that is at least 20 inches wide.
Tape the paper vertically against a wall with masking tape; masking tape is easier to remove from paper than other types of tape.
Instruct an adult to stand in front of the paper facing forward with his arms stretched upwards like a tree trunk with branches. Trace the adult with a pencil onto the butcher paper. Include the stretched up arms in the tracing.

Cut out the tracing with scissors. Staple the tree trunk to a bulletin board or use double-sided tape to secure it to a large wall.
Cut out 100 oval-shaped leaves, approximately 6 inches long each, from the butcher paper, and paint them green with tempura paint using a craft paintbrush. Tape or staple the leaves to the top of the tree's branches. Form a rounded treetop shape with all the leaves.