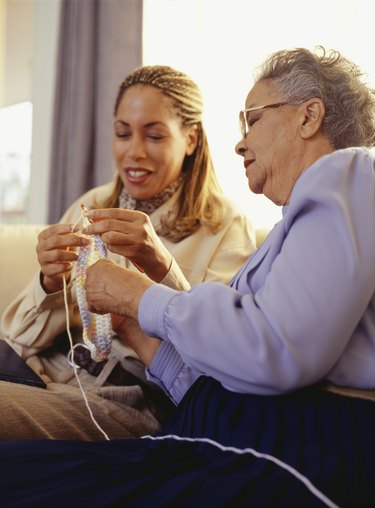 Crocheted headbands are a trendy fashion must-have for all ages, from babies to women. They are quick to crochet, and make inexpensive, cute gifts. Once you've crocheted the length of headband you want, you simply have to finish it off by joining the two ends together. The headband will look even more eye-catching if you add a flower, brooch or other embellishment.
Step 1
Finish crocheting the final row of your headband and leave the yarn attached.
Step 2
Join the two ends of the headband together with the right sides facing each other.
Step 3
Crochet a row of single crochet stitches, pushing your hook through both layers of the headband for each stitch, so that you join the seam. Single crochet stitches are made by inserting the hook through the stitch, wrapping the yarn from back to front of the needle and drawing it back through the stitch so that there are two stitches on the hook. Wrap the yarn around the needle again and draw that through the two stitches on the hook.
Step 4
Cut the yarn and pull it through the stitch on the hook. Thread the tail of the yarn through a darning needle and sew a couple of stitches before trimming off the excess. Turn the headband right side out.