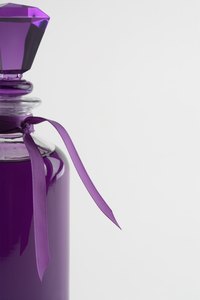 Essential oils have many uses, ranging from medicinal to personal care to home cleaning and beyond. Commercial cleaners often contain toxic ingredients that are harmful to you if you inhale or ingest them, and they're harmful to the environment as well when they get poured down the drain. Make your own nontoxic household cleaners, including all-purpose cleaners and window cleaners, by using essential oils with antibacterial and antiseptic properties. White vinegar is another refined substance that contains antibacterial properties, making it ideal for home cleaning; use it in combination with essential oils to avoid the "vinegar smell" in your home.
Things You'll Need
Spray bottles
Measuring cups
White vinegar
Water
Lavender essential oil
Lemon essential oil
Natural liquid dish soap
All-Purpose Cleaner
Combine 2 parts filtered water with 1 part white vinegar in a spray bottle.
Add 10 drops of lavender essential oil to the bottle, then shake well. Lavender contains antiseptic and antibacterial properties that make it optimal for home cleaning, while its scent leaves a calming, nontoxic fragrance in the air.
Use the cleaner as needed, such as over bathroom and kitchen countertops, for dusting purposes and to clean and disinfect spills and stains on flooring and carpeting. Shake the bottle of cleaner every time before use.
Scouring Gel
Combine 2 parts natural liquid dish soap with 1 part baking soda.
Add five to 10 drops of your favorite essential oil, such as lemon essential oil. Lemon scent, or lemon essential oil, is frequently used in consumer kitchen and other household cleaners, and the oil contains antibacterial and antiseptic properties.
Shake the ingredients in the bottle well before each use.
Window Cleaner
Mix 1 cup water and 1 cup white vinegar in a spray bottle.
Add 10 to 15 drops of lemon essential oil to the bottle.
Shake the bottle well before each use.