Things You'll Need
Craft Paint

Acrylic paint

Towel

Isopropyl rubbing alcohol

Bowl

Paintbrush

Stencil

Acrylic varnish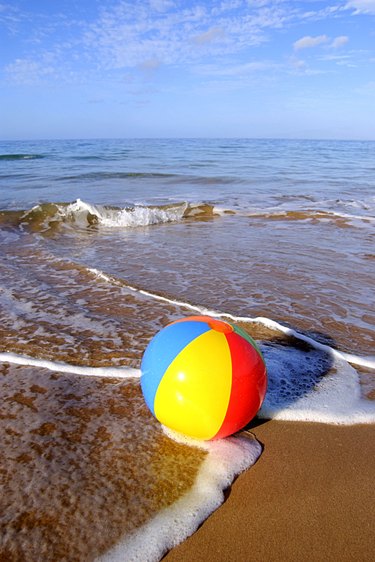 The beach ball is an inflatable plastic toy commonly seen in the summer at pools, beaches and other watery places. The ball moves slowly through the air when thrown and users typically use two hands to catch the ball because of its large size. However, you need not be stuck with the typical color patterns of store-bought beach balls. Plain beach balls are sometimes sold in stores, although a crafty person can also repaint a beach ball just for fun or for a themed beach party.
Step 1
Select a paint for use on your beach ball. Read the product descriptions on the bottles. You should choose a paint that can be used on a plastic surface. Craft paints or acrylic paints are ideal.
Step 2
Inflate the beach ball. Dab a towel in isopropyl rubbing alcohol and wipe down the beach ball to remove any debris that may cause painting problems. Allow it to dry. Place the beach ball into a large bowl to keep it still while you paint.
Step 3
Dip a paintbrush into a paint you intend to use as the background of the beach ball. You may need to select a dark color, such as black, to completely cover any previous paint. Allow the first layer of paint to dry. Add another layer, if desired.
Step 4
Paint on top of the background color. Press stencils against the beach ball with one hand and use the other hand to paint within the stencil's lines. You can add summer imagery to the beach ball, such as palm trees, seashells or a sun. Allow all paint to dry.
Step 5
Select an acrylic varnish, which can be found in craft stores. If you used acrylic paint, varnish can promote the longevity of your beach ball artwork. Spray or paint on the acrylic varnish according to the product's directions. Allow it to dry and take your beach ball for a swim.
Warning
Supervise any young children handling paint or varnish during this project, as inhalation or ingestion may require assistance from a Poison Control Center. Call 1-800-222-1222 for assistance in case of exposure.