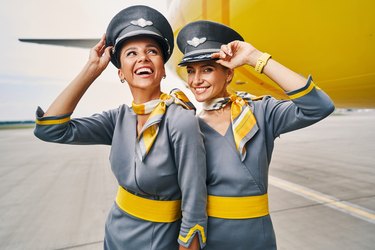 While it may be easy to make a basic paper hat, an old-fashioned flight attendant pillbox hat is a little bit trickier. Although today's flight attendants do not usually wear these, anyone who wants to have a flight attendant costume should have one to top off the outfit. You can make a DIY flight attendant hat with little effort, but having the right materials will speed things along.
What Is a Flight Attendant?
Back in the day, female flight attendants were often called air hostesses. It sounds pretty outdated, but people still like to wear these costumes. In fact, an air hostess hat and scarf will really complete the look if you want to make your own DIY air hostess costume. Keep in mind, though, that the accessories should match the clothing.
Today, modern-day air hostesses are called flight attendants. A flight attendant's job is to make sure that all passengers are experiencing a great flight and provide them with any necessary in-flight services, such as bringing food or drinks or answering questions.
How to Make a Flight Attendant Hat
This template from CDN Media has three separate parts – the top, the left base and the right base. You can glue the templates to heavy-duty construction paper, flexible cardboard or felt and then cut along the lines. The base needs to be assembled first with tape or you can use a stapler if you can conceal the staples. The top part has to be folded, and its tabs get taped or stapled inside the base. If you do this with material, you can use fabric glue or sew it.
As a final touch, you can use the Pan Am logo templates to complete the hat. These can also be used to conceal imperfections, like staples. The brand color for this airline was royal blue, so you can use it for the hat and wear a matching suit with a white collared shirt and short white gloves. Air hostesses also wore opaque nylons and short black pumps. Find a coordinating scarf, and you'll be all set.
Holiday Flight Attendant Costume Hats
You can create an elegant costume hat if you want to dress up as a Halloween or fall-themed air hostess. Start with some strong corrugated cardboard and trace and cut out three circles that will fit on the top of your head. Place the first piece down and then layer the cardboard with two pieces of cut quilt batting in between for height. Next, punch a hole through the top piece of cardboard, attach the layers with fabric glue and place it on top of a large piece of orange felt (with the hole-punched piece of cardboard facing you).
Trim the orange felt, leaving about 1 to 2 inches around. Then, thread a large needle with orange yarn and sew the felt around the cardboard in and out of the hole that you punched. Overlap the felt to create the pumpkin sections. Cut out a smaller orange felt circle to cover up the cardboard and glue or sew it on. Next, glue a long piece of brown ribbon to the top of the smaller felt piece to create a strap you can tie around your chin.
Decorate the top of the hat as desired with more orange and green felt. The cardboard base can also be used for other hats. Use black felt instead for an air hostess witch hat and top it with a black cone using black ribbon and lace as finishing touches.