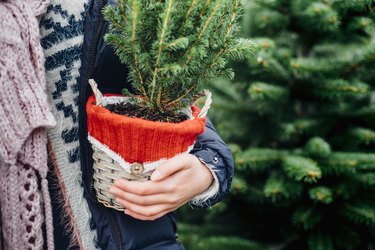 Once the Christmas season is over, real evergreen trees purchased for decoration are usually discarded. If you want a more sustainable alternative, you can opt for a potted Christmas tree that can be transplanted outdoors after December 25th. Because they are very much alive, potted Christmas trees need proper care in order to survive the holiday indoors and transition successfully to an outdoor location.
Choosing a Potted Christmas Tree
A potted Christmas tree can only survive indoors for about a week. If you keep it inside for too long, it will come out of dormancy. When this happens, transplanting the tree outdoors is no longer possible. Therefore, you should buy potted Christmas trees very close to the holiday.
Selecting a species of Christmas tree that is suited for the climate where you live is also key to its long-term survival. Before purchasing a potted Christmas tree, look up the U.S. Department of Agriculture zone in which you are located. Choose a tree that is known to be winter hardy in that zone. Norway spruce and white fir, for example, are good choices for the Northeast, while blue spruce and Arizona cypress trees are well suited for the Pacific Northwest. Virginia pine is one of several species that does well in the South.
You should also consider the size of your yard or garden when choosing a tree. Be sure to look up the height and spread of your chosen species at maturity to ensure that you have enough space for it to grow. Whenever you buy a Christmas tree with a root ball, you should examine the roots. If you see the roots densely wrapped tightly around the soil, it means the tree has been in the container for too long and is unlikely to thrive when transplanted.
Indoor Potted Christmas Tree Care
Watering is key when it comes to keeping a potted Christmas tree alive and thriving while it is indoors. You'll need to water the tree whenever the first inch of soil dries out while also making sure that there is a way for excess water to drain. Avoid overwatering a potted Christmas tree, as this can harm the plant.
Placing a potted Christmas tree near a fireplace, vent or other heat source can cause it to dry out quickly. To avoid loss of moisture, stick to LED lights or low-temperature lights when decorating a potted Christmas tree.
Potted Christmas Tree Care Outside
If you live in USDA zone 7 or south of it, you can transplant your potted Christmas tree right after the holiday season as long as you aren't experiencing an uncharacteristically chilly winter. If you live in a colder climate, however, you should keep the tree in its container on a porch or other protected, unheated area until early spring to prevent it from being injured by cold temperatures and winter winds.
During the tree's first growing season in its permanent location, you should water it regularly. Apply a layer of mulch that is about 3 inches thick around the base of the tree. This helps keep the roots moist.