Things You'll Need
Sand dollar

Mild soap

Water

Chlorine bleach

White glue

Sponge brush

Necklace making kit

Pliers

Drill

1/16-inch drill bit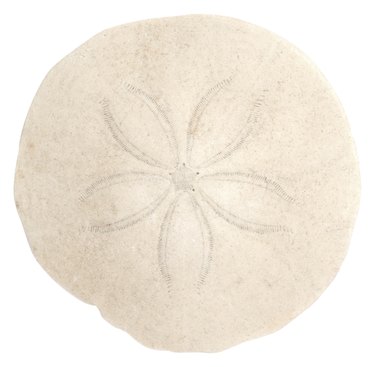 Sand dollars can be found washed up on the shore after a storm, or at low tide. Sand dollars are highly sought after by beachcombers. They are kept as souvenirs, used in crafts and made into jewelry. Bleached white by the sun, the sand dollar is round and flat and about the size of a large coin. Sand dollars make pendants for necklaces. In their natural state, they are extremely delicate and brittle. Sand dollars need special care and preparation before they can adorn a necklace.
Preparation
Step 1
Soak the sand dollar in mild soap and water to remove sand and debris. Change the water frequently until it remains clear.
Step 2
Prepare a solution of half chlorine bleach and half water. Soak the sand dollar in the solution for five to 10 minutes to whiten it.
Step 3
Remove the sand dollar from the bleach, rinse with fresh water and allow to completely dry.
Step 4
Repeat this process if the sand dollar is not white enough.
Step 5
Mix equal parts of white glue and water together.
Step 6
Use a sponge brush to cover the sand dollar with the mixture. Allow to dry until completely hardened.
Make the Necklace
Step 1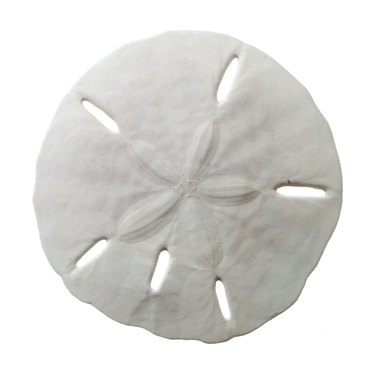 Using the necklace making kit, measure and cut the length of chain wanted.
Step 2
Attach the clasp with jump rings, or pull the last chain in the necklace apart. Slip the end of the clasp into the open loop, and close the ends tight with jewelry pliers.
Step 3
Using a 1/16-inch drill bit, drill a hole in the sand dollar about 1/4 inch from the edge. Insert a jump ring into the hole.
Step 4
Attach a bail to the jump ring. If the sand dollar doesn't lay flat on your chest, try another type of bail, or add a second jump ring.
Step 5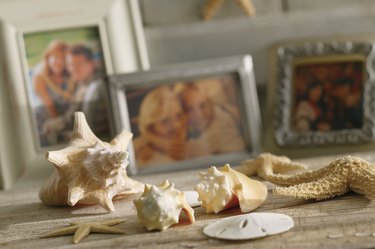 Slip the bail onto the chain necklace.
Tip
Purchase prepared sand dollars at a craft store if you can't get to a beach, or aren't having any luck finding one along the shore. Don't soak the sand dollar too long in water, as it can become fragile and break apart. Make a simple necklace by running a thin cord or ribbon through one of the holes in the sand dollar. Purchase a necklace already assembled with a clasp, instead of a necklace making kit.