Things You'll Need
Paint

Floor rugs

Leather furniture

Wood furniture

Table lamps

Dimmer switches

Cushions

Throws

Curtains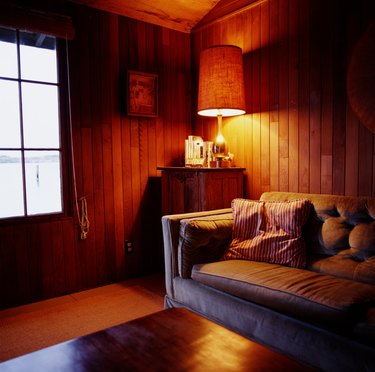 A cozy, homey room is the perfect space to relax after a hard day at work or to socialize with friends with a bottle of wine and a movie. Whether you want to create a more intimate feeling in a large room or transform a small room into a snug den, leather furniture is a good choice for creating that cozy feel. Combine leather with warm colors, plush fabrics and rich, dark wood to transform your room into an inviting, relaxing space.
Step 1
Paint the walls with soft, earthy fall colors. Chocolate browns, burnt oranges, deep reds and rich yellows create a feeling of warmth and security. For a more rustic "log cabin" feel, cover the walls with wood paneling and use accessories to introduce the fall color palette.
Step 2
Lay a thick, deep-pile carpet for a soft, warm feel underfoot. For a cozy rustic vibe, lay a wood floor with rich, deep hues and add rich, Persian-style rugs.
Step 3
Create an intimate seating area by arranging the smaller sofas or chairs at right angles to the largest leather sofa. Place a rustic, dark wood coffee table on a large rug in the center of the seating area.
Step 4
Add wood furniture with warm, deep undertones, such as redwood or mahogany. Search thrift stores, flea markets and antique shops for a bargain. In small rooms, use faux leather storage cube boxes. These are an attractive storage solution that complement the other leather items in the room and double as small side tables.
Step 5
Create a cute reading area by fitting floor-to-ceiling shelves in one corner of the room. Add an overstuffed leather chair, small antique table and Tiffany tabletop lamp.
Step 6
Fit dimmer switches to the main lighting in the room or use tabletop lamps for a softer, more gentle light. Use Moroccan-style lamps to add a touch of exotic warmth to the room.
Step 7
Pile cushions and throws on the sofas and chairs in a range of textures, fabrics and colors. Combine suede, leather, velvet, cotton and damask in fall-inspired colors. Add a splash of black to give depth to the color scheme and a touch of green for a really nature-inspired feel.
Step 8
Dress the windows with floor-length curtains made from a heavy fabric such as velvet. Although blinds are a common window treatment, they lack the soft, flowing appearance that makes curtains that much more cozy.
Tip
Avoid whites and bright shades because they reflect light, creating a light, airy atmosphere. Avoid very dark hues since these can make a room feel depressing during the day without the warmth of artificial lighting. Avoid silky, shiny fabrics and opt for more textured types with a non-silky finish.