Things You'll Need
Soft cloth

Bowl

Mild dish soap

Wood safe acrylic paints

Modeling paintbrush

Acrylic medium

Clear coat wood sealant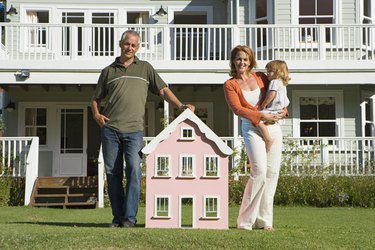 Whether your doll house is a beloved family hand-down or a prized antique you found in a shop, refurbishing older doll houses allows you to protect your piece and bring it back to its original luster. Dollhouse refurbishing is a fun craft project you can complete at home, rebuilding damaged pieces, repainting worn surfaces and protecting your dollhouse from future wear and tear. Your refurbished dollhouse can add a colorful, delicate, decorative element to any room.
Step 1
Place your dollhouse in a safe area where you can work, such as a closed garage or crafts room in your home. Avoid leaving your dollhouse outside, as this could leave it susceptible to yard debris as you are cleaning it.
Step 2
Dilute 1 or 2 tsp. of dish soap in a bowl of warm water. Use a soft cloth, dabbing it in the soap mixture and wiping the walls, floors, ceilings and outside of your dollhouse. Check every small space and corner for debris, removing it with the cloth as you find it.
Step 3
Look for areas of the dollhouse where paint is peeling away from the walls and furniture. Use the soft cloth and clear away these pieces of paint. Use soft strokes as you wipe away these pieces of paint, to avoid damaging the walls by being too abrasive. Remove them from the dollhouse, leaving the house clean, free of excess paint pieces and ready for you to begin painting.
Step 4
Use wood glue to reattach broken pieces of furniture, but make sure the glue is dry before moving the furniture back into your dollhouse. Make a note of any pieces of furniture too broken for you to repair.
Step 5
Make a list of each paint color you need to purchase by noting each surface in your dollhouse with missing or damaged paint. Use your cell phone or electronic camera and take a few pictures of each surface, giving you a picture reference to look at when shopping for colors.
Step 6
Visit your local hobby shop and review the paint options at the store. Purchase wood-safe acrylic modeling paints in the colors you need to match your dollhouse and an acrylic medium. Purchase a clear coat paint sealant spray to finish your paint project.
Step 7
Spray each surface with the acrylic medium before adding any acrylic paint, to protect your wood surfaces. Using the right colors for each surface, repaint each surface and piece of furniture that has damaged paint in your dollhouse. If the older painted surface looks dated against your newer paint, repaint the older surfaces as well. Use the spray paint sealer over each painted surface to finish your refurbishing project, sealing the paint and protecting your dollhouse from future wear.