Things You'll Need
Clear model or craft glue

Frame sized for the puzzle

Utility knife

Contact paper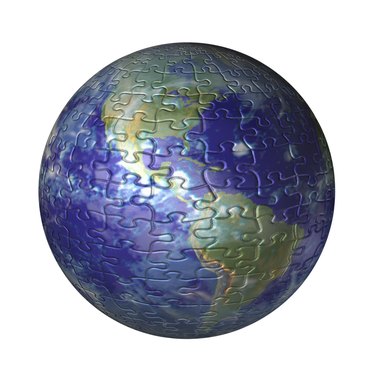 A jigsaw puzzle can be an entertaining and engaging activity for several hours. From start to finish, the constructor can watch the picture come to life. Once the puzzle is finished, though, don't waste the effort. Prepare the work of art so you can look at it again and again. For the cost of a puzzle, a frame and a few materials, you can give the project new life by displaying it in a frame.
Gluing
Step 1
Complete your puzzle and check the surface to make sure it fits together smoothly.
Step 2
Move the puzzle onto a thin piece of posterboard or cardboard, either by sliding it off the table or sliding the board under the puzzle.
Step 3
Cover a table with old newspapers or magazine pages or an absorbent cloth. Slide the puzzle onto the table and adjust any loose or raised pieces.
Step 4
Apply clear model or crafting glue evenly over the entire surface of the puzzle. Complete the application uninterrupted to allow for even texture throughout.
Step 5
Allow the puzzle to dry completely and trim off any paper which may have stuck to the outer edges.
Framing
Step 1
Slide the glued puzzle onto a backing material such as foam or cardboard. If the back piece that came with the frame is solid enough, that works well.
Step 2
Hold the top and bottom boards tightly, and slowly flip the puzzle over.
Step 3
Slide the puzzle back onto the table and apply a contact sheet to the back. Trim the sheet to fit. This will firm the puzzle for framing.
Step 4
Lift the entire puzzle and place it face down into the back of the frame. Place the backing onto the frame and secure.
Tip
Though most puzzle frame dimensions are accurate, some are not. If the puzzle is too large for the frame, use a sharp utility knife to trim the edges as needed.