Things You'll Need
Oven

1 pound soy wax

Double boiler

Food thermometer

Dye color chip

Wooden mixing spoon

1 ounce pine-scented fragrance oil

16 ounces heat-resistant glass apothecary jar

Cookie sheet

Pair oven mitts

Baking cooling rack

Wick with attached wick bar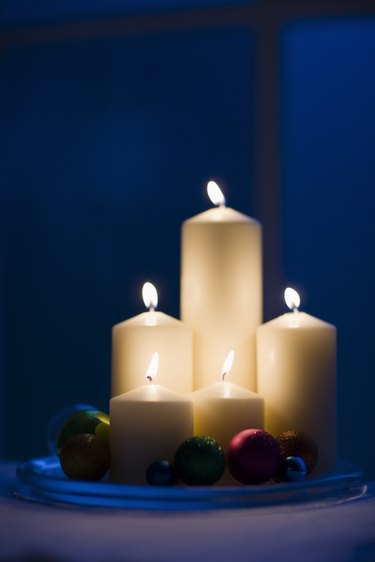 If you are having a hard time finding a scented candle with the right aroma, make a homemade pine-scented candle. Making your own pine-scented candle is an effective way to add the peaceful aroma of fresh trees and outdoors to your home or office. In addition to creating a personalized scent, homemade candles allow you to select the size, color and shape of your candle. They also make thoughtful gifts for all occasions.
Step 1
Preheat the oven to a temperature of 125 degrees Fahrenheit.
Step 2
Place 1 pound wax into a double boiler. Place the double boiler over high heat. Melt the wax to a temperature of 185 degrees F. Use a food thermometer to keep track of the temperature.
Step 3
Add a dye coloring chip to the wax and blend with a wooden mixing spoon.
Step 4
Pour 1 ounce pine-scented fragrance oil into the wax.
Step 5
Remove the double boiler from heat and set aside. Use the wooden mixing stick to blend the fragrance oil into the wax.
Step 6
Place a 16-ounce heat-resistant glass apothecary jar on a cookie sheet and put the cookie sheet into the pre-heated oven. Heat the jar for three minutes.
Step 7
Remove the apothecary jar from the oven using a pair of oven mitts. Place the jar on a baking cooling rack.
Step 8
Check the temperature of the wax using the food thermometer. Once the wax has reached 125 degrees F, pour the wax into the heated glass jar.
Step 9
Insert a wick with an attached wick bar into the center of the wax candle. Allow the candle to cool overnight.
Tip
This candle-making method works with soy wax as well as paraffin wax.
Warning
Remove the wax mixture from heat once you have added the fragrance oil. Heating the fragrance oil will cause the scent to evaporate.