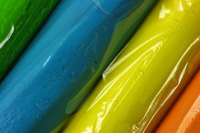 Polymer, or non-harden, clay is a clay made from polymer polyvinyl chloride, or PVC. It will not harden when exposed to air, so it is ideal for people who are learning to mold or enjoy molding and remolding with the same materials. If you create a piece you want preserved, you can harden the polymer through baking.
Things You'll Need
Preheat your oven to 300 degrees Fahrenheit.
Place your polymer work onto a ceramic tile lined with parchment paper.
Bake the clay in your oven for 30 minutes per 1/4-inch of thickness. So, if you have 1 inch beads, bake them for 2 hours.
Remove the beads after the correct baking time and allow them to cool on the tile until they are completely cool to the touch.