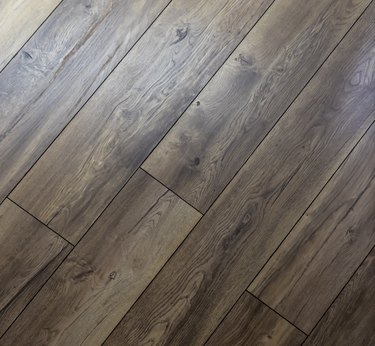 If your laminate flooring has a cloudy appearance, it is likely caused by a film of excess cleaning product. With proper care, restore the shiny laminate floor finish with a few simple steps and prevent the cloudiness and streaking from returning. Fortunately, laminate flooring is not only durable and easy to install, but it is also easy to care for.
Cloudy Laminate Floor Finish Causes
When your laminate floor has a dull, cloudy finish, it is most likely caused by a buildup of floor cleaner, polish or wax. Dirt and debris easily stick to the excess product, making the floor look cloudy and dirty instead of having an attractive sheen. Dirt and dust on the floor can also make the flooring look dull. Fortunately, both of these issues are easily resolved with proper cleaning.
There are some other things that can damage your laminate flooring. Laminate floors are constructed with tightly packed wood particles. This makes the material strong and durable, but it also means that the material can absorb more water than hardwood floors. When it does, the flooring can become warped, so be sure to clean up spills immediately and use only a small amount of water for cleaning.
The top layer of the flooring is made of plastic material to protect the wood particles underneath. High heat can cause this layer to separate. In addition, it can be scratched, which will dull the surface of your flooring. Avoid using scouring pads, steel wool, stiff brushes and abrasive cleaners.
Laminate Floor Cleaning Instructions
To remove the cloudiness from your floor, you need to clean the excess cleaner from the surface. First, remove the loose dirt and debris by sweeping the floor with a broom and dustpan. Then mop the entire floor with a solution of one cup of ammonia mixed into one gallon of water.
The best mop for laminate floors is a mop that uses microfiber pads. Simply moisten the pad, and wring it out. Mop with the damp microfiber and check the pad frequently. Take care not to use too much water and wipe up any excess moisture right away. Depending on how much buildup you have on your floors, you may need to clean or change the pad multiple times.
Floor Cleaning Tips and Considerations
Once your floor is shining once again, keep it clean and prevent the cloudiness from returning. In most cases, you can keep the floor clean with a damp microfiber mop pad. If you want to use a floor cleaner, you can use the ammonia mixture or a cleaner designed for use on laminate, such as Rejuvenate laminate floor cleaner.
It is tempting to try to find the "best laminate floor cleaner machine," but it is generally best to keep it simple. You can use a light, brushless vacuum rather than a broom to help you remove dust. However, avoid heavy vacuums with roller brushes that can easily scratch the surface of your flooring. You should also avoid steam cleaners because the heat and water from the steam can damage the flooring.