Things You'll Need
1/2 cup corn starch

3 tbsp. sugar

2 cups water

Saucepan

Food coloring

Plastic container

Liquid dish soap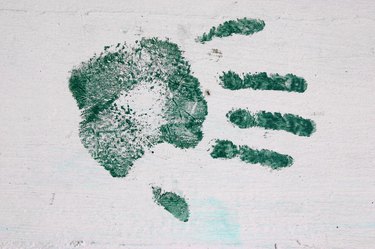 Kids love to work with their hands, so homemade paint is an efficient and safe way to keep kids entertained. Homemade paint for finger painting requires basic ingredients like cornstarch and sugar. Whip up some of this homemade finger paint so your kids can create beautiful handprints on construction paper.
Step 1
Combine cornstarch and sugar in a saucepan and mix together.
Step 2
Turn the burner heat to low and slowly add two cups of cold water.
Step 3
Stir the ingredients together until a thick paste forms.
Step 4
Remove the pan from the heat.
Step 5
Add five to ten drops of food coloring, a drop of liquid dish soap and stir well. Add more food coloring for a darker or more vivid color.
Step 6
Spoon the paint into a long, shallow plastic container. It has to be large enough to fit your child's hand.
Step 7
Allow the paint to cool completely.
Step 8
Dip your child's hand into the paint and then onto a piece of paper, t-shirt or any other items you prefer.
Tip
Store the paint in the refrigerator. Separate the paint into different containers and then add food coloring if you want more than one color.