Things You'll Need
Mardi Gras brochures or books

Costume or mask pictures

Beads

Doubloons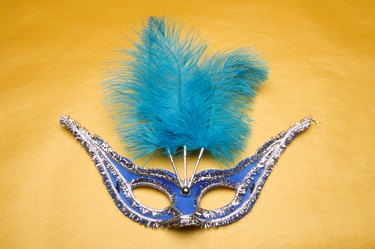 Mardi Gras, translated from French to English as Fat Tuesday, occurs the day before Lent begins on Ash Wednesday. The largest U.S. celebration of Mardi Gras takes place in New Orleans, La. Celebrations in New Orleans begin on Jan. 6, which is Epiphany, and lasts through Fat Tuesday. Small children may not understand the parties and parades at Carnival time because much of the celebration is for adults. However, you could explain Mardi Gras traditions and the kinds of things she might see.
Step 1
Refer to Mardi Gras events as a big party. Explain that the parades, bands and other street events work like one great big party lasting many weeks and many people come to attend the party. Tell the preschooler that the picnics, concerts and parades encourage people to have fun. You might ask the child what kinds of events he would like to see.
Step 2
Explain to the child that those who attend Mardi Gras often dress in costume and may use a mask with feathers that hides part of their face. Tell him they wear masks so people won't know who they are. Remind her that she can pretend to be someone else, just like she does at Halloween. Encourage her to wear a costume to the parades because the people in the parade who throw things toss more stuff to people in costume. Explain that many of the Mardi Gras costumes use the colors gold, purple and green. Gold represents power, purple stands for justice and green means faith.
Step 3
Show her pictures of the Mardi Gras parade floats. Explain that people build big platforms on wheels and decorate them with beautiful colors. Tell her that the people who ride on the float often toss beads, cups, doubloons and stuffed animals. Describe how this tradition started many years ago to celebrate the visit of the three kings to see baby Jesus.
Step 4
Tell your child about the tradition of the King Cake. Explain that the King Cake honors the visit of the Magi to see baby Jesus. Show him that the cake frosting uses the same colors of gold, purple and green used in the costumes. Describe how bakers hide a plastic baby Jesus in the cake as a prize. Explain that if you get an almond in your piece of the cake it represents good luck.
Step 5
Say that the Mardi Gras party allows people to have fun before Lent. Describe how people think about why Jesus had to die during Lent and it may make them sad. Explain that Christians think about the things they have done wrong during Lent and ask God for forgiveness.
Tip
Keep things simple. Use lots of pictures.