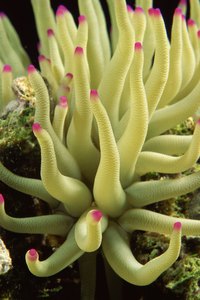 Invertebrates such as squid and octopuses have tentacles. These animals use these long appendages to sense their world, to move and to capture prey. The tentacles of the giant squid have long been famous in sailing folklore. In a play about mariners or in a Halloween costume, tentacles add a fun moveable element to a set or a costume.
Things You'll Need
Upholstery foam
Foam cutter
Crazy glue
Metal wire
Permanent marker
Foam cutter
Safety glasses
Determine how high you would like your tentacles to be, and add 2 inches to that measurement so that you can create bumps on the bottom of the tentacles. Cut a long, thin triangle out of paper to these measurements as a model for the foam tentacles.

Use a permanent marker to trace the tentacles onto the foam by tracing around the paper stencil that you have created.
Put on safety classes. Use a foam cutter or a utility or electric knife to cut through the foam. Carve out the sides and mold them into a more naturalistic shape.

Trace circles onto the top of the triangle. This will be the bottom of the tentacle where the animal has its suction cups. Use a marker to black out the areas around the circles.

Use the cutter to cut out the areas that are black to a depth of approximately 2 inches. The remaining cylinders are the beginnings of suction cups. Use a knife to hollow out the suction cups if you wish.
Attach the tentacles to a central object if they are part of a larger prop. Use crazy glue to glue the tentacles to a squid or octopus body. Use the foam tentacles as stage props and drape them over a backdrop so that a puppeteer can hide behind them and move the tentacles as if they were connected to a large octopus or squid.