Things You'll Need
Oxygen bleach

Plastic bucket

Scrub brush

High-adhesion primer

Foam brush

Masking tape

Epoxy paint

Clear sealant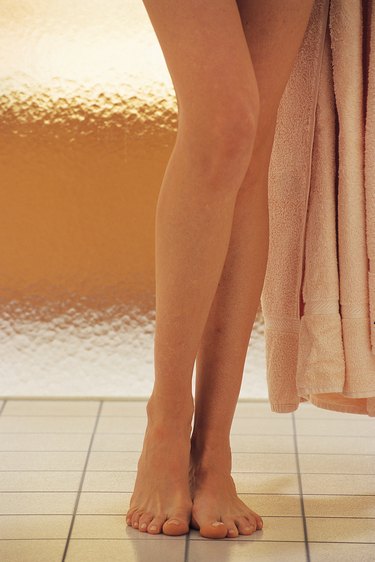 Ugly shower tiles are the bane of any homeowner's existence. Even neutral tiles develop an outdated appearance after a few years of use. Combined with dirty grout, the tile makes your bathroom look less than stellar. Ripping out the old tile and replacing it with new tile is an expensive prospect that not all homeowners can afford. Painting the surface helps you cover and hide the ugly tile while spending less money and time on the project.
Step 1
Mix the powdered oxygen bleach and water in a plastic bucket, using the ratio recommended by the manufacturer. Dip the scrub brush in the solution and scrub onto the old tiles. Let the solution sit for at least 10 minutes before scrubbing again and rinsing with fresh water.
Step 2
Paint the tiles with a high-adhesion primer that adheres to the tile and will not rub or peel off. Use a foam brush for an even coating of primer. Wait at least three hours or overnight, until the primer completely dries to the tile.
Step 3
Mark off the tiles with masking tape. Peel off pieces of the masking tape and stick to the shower surround, the walls above the tile and any other areas where you do not want paint. The masking tape peels away without damaging the other surfaces.
Step 4
Apply an even coating of epoxy paint to the old tiles. Work from one corner and move across the wall, then move over and apply more paint. Keep painting the tiles until you completely cover the ugly tiles with the epoxy paint, which will not peel or flake like other paints.
Step 5
Wait 24 hours and peel away the masking tape. Apply a coat of clear, waterproof sealant over the epoxy paint. The sealant protects the paint from moisture damage when using the shower and keeps the paint from peeling away.
Tip
If you want the grout a different color, wait until the paint dries. Cover the tile with masking tape and carefully paint over the grout with epoxy paint using a thin paintbrush.
Warning
Do not get the tiles wet for at least 24 hours after applying the paint or sealant. If you use the shower, then the water touches the tile and may wash away the coating.