Things You'll Need
Waterproof Glue

Cloth

Paintbrushes

Exterior Paint

Stain-killing Primer

Stiff Wire Brush

Wood Primer

Paste Wood Filler

Putty Knife

Clamp

120-, 180- and 220-grit sandpaper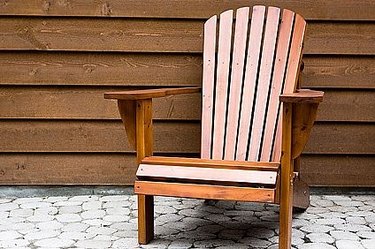 If you have an old picnic table or some Adirondack chairs with peeling paint and chipped or splintered wood, it's not that hard to make them look (almost) as good as new. Furniture refinishing of this sort is much closer to carpentry and house painting than it is to restoring an antique sideboard. That's fine, though, because without much effort you'll be able to cover up any minor imperfections and have a good-looking result.
Step 1
Scrub the splintered, chipped or dented area with a stiff wire brush to remove any loose paint or wood chips.
Step 2
Apply a waterproof glue to any splintered pieces and clamp them until the glue dries.
Step 3
With a putty knife, spread a paste wood filler over the damaged area, covering it completely.
Step 4
Smooth down the wood filler until it is flush with the wood surface. Let dry overnight.
Step 5
Sand the patch gently with 220-grit sandpaper, feathering out the edges to make the patch less visible.
Step 6
Wipe off the sanding residue with a damp cloth.
Step 7
Remove any peeling paint with a stiff wire brush.
Step 8
Sand the item with 120-grit sandpaper, along the grain.
Step 9
Switch to 180-grit paper, and sand again until the item is fairly smooth, especially along the edges between the painted and unpainted areas.
Step 10
Paint any bare wood with a primer; let dry.
Step 11
If the wood has a number of knotholes or dark blemishes that you want hidden, paint them with a stain-killing primer. Let dry.
Step 12
Paint the entire piece with an exterior paint--even the hard-to-see places underneath, which will need the paint for protection, if not appearance. Let dry.
Step 13
Apply a second coat; let dry.
Tip
When painting a bulky piece of furniture such as a picnic table, prop it up on one end first, to expose its underside and other parts you might not notice. Either latex or oil-based primers will work here, but latex paint is much easier to clean up. Latex paint has also improved in quality and adhesion in recent years, and it is used by most painters for most jobs. Paint the end grain of the wood twice while applying each coat (painting it first and then again at the end will make this easy to remember). This ensures that the paint completely covers the grain.