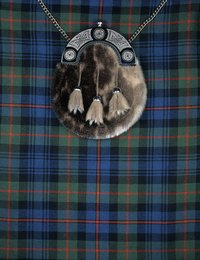 Thoughts of Scotland evoke images of tartan plaids, kilts and bagpipes. You won't see a lot of kilts on the city streets in this European nation in the 21st Century, but there is still plenty of the tartan (which meant plaid in Gaelic, the ancient language of Scotland) design. Plaid is easily identifiable as Scottish so include it in any Scottish costume. Women traditionally did not wear kilts because they were the uniform of the Scottish soldier; however, a plaid skirt conveys the image of a Scottish lass.
Things You'll Need
Men:
Kilt or plaid skirt
Wide belt
Cotton shirt
Knee-high socks
Garter flashes or ribbons
Leather shoes
Sporran or pouch
Tam or beret
Women:
Kilt or plaid skirt
Large safety pin
Wide belt
Lacy blouse
Sash
Broach
Knee-high socks
Ballet shoes
Bonnet
Men
Pull on a woman's plaid skirt if you do not want to invest in buying or renting a Scottish kilt. The skirt must be pleated at the waist and topped with a wide belt and a cotton shirt.
Wear knee-high socks and fold them down at the top in a cuff. Underneath the fold, wear garter flashes or tie a ribbon around each calf, allowing the ends to stick out from underneath the cuff of the socks on the outer sides. Wear leather shoes or moccasins.
Strap on a sporran, the pouch traditionally worn by Scottish men with their kilts. Create your own sporran by attaching three tassels to a small, flat black or brown pouch. Attach straps to the pouch and wear centered in front with the straps tying behind your back.
Finish the look with a tam, or beret, that complements your kilt.
Women
Wear a kilt or pleated, plaid skirt. Attach a giant safety pin to the skirt to mimic the look of a kilt. Top the skirt with a wide belt.
Add a feminine touch to your costume with a lacy blouse. Wear a sash matching your kilt or skirt over your shoulder and pin it with a broach.
Wear knee-high socks and lace-up ballet shoes, which resemble the ghillies traditionally worn in Scotland.
Top off the look with a bonnet. Disguise a modern hairstyle by pinning bangs under the bonnet.