Things You'll Need
Fine grain sandpaper

Photographs of buildings

Resin

Felt

Paint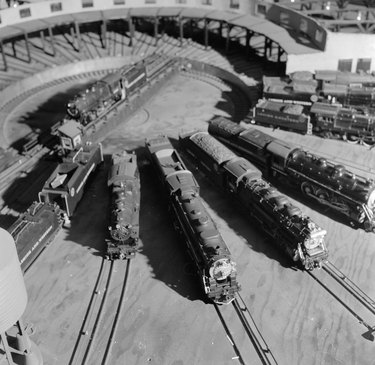 Making miniature town models is an enjoyable hobby because it allows you to create unique settings without having to spend a lot of money, time, or be a carpenter. Building a model town allows you exercise your creativity without breaking the bank. And the biggest advantage is that you can easily modify your creations while you're making it to ensure that it is exactly what you want, and you can store your creations for years to share with friends. And as with any craft, the more work you put into it the better it will look!
Step 1
Envision your miniature town. Do you want a colonial look to it, or something more modern? What kind of terrain and scenery do you want for your miniature town? How much work and money can you afford to put into it? Factor in all of these questions while you plan your town.
Step 2
Create the terrain of your town. The easiest way to do this is use a baseboard and felt. With your baseboard secure, add layers of fabric to the baseboard. Use lots of fabric on areas that will have hills. Then, cover the entire thing with a big piece of felt to give it a smoother look. For a more realistic look, try this advanced technique: Use fine-grain sand and use resin to make it stay in place. Use enough resin to make it stay, but not so much that it becomes shiny. Then, paint over it with a dull paint with an earthy tone.
Step 3
Start making the streets for your town. You can do this with spray paint, or strips of gray or black felt if you used felt for your terrain. If you want to get really into it, make crowned streets while you're making your sand terrain and paint over them later. You can add accents like potholes and streetlamps at this step.
Step 4
Place your pieces where you think you want them. Do not glue anything down yet; just put everything where you think you want it to go. You may find that where you thought you would want a neighborhood, you really want a park. You can easily move the pieces around until you get it just how you like it.
Step 5
Secure your pieces. At this step, when you're happy with the placement of your buildings and trees, glue everything down. For a more professional look, if you used the sand technique for your terrain, you can small nails or tacks to push your houses into the terrain. This will eliminate the risk of glue spilling out on the sides, and you'll be able to pick up your pieces and move them around later. Be careful of this, though, because you will leave a hole in the ground every time you move a piece.