Things You'll Need
Soft-bristle brush

Commercial roof-washing solution

Hose with high-pressure nozzle

Plastic sheeting

Paint tray

6-inch corrugated-foam roller or universal cover roller

4-inch angled foam brush

Latex exterior primer

Latex exterior roof paint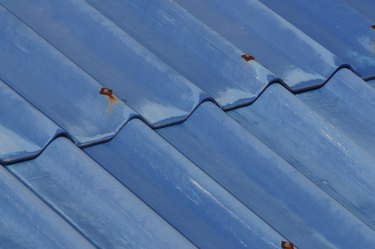 A fresh coat of paint can enhance your home's appearance and protect the roof from moisture. Light-colored paint can also reflect sunlight, keeping your home cooler and reducing air conditioning costs. Paint manufacturers design roof paint for a wide variety of surfaces, including asphalt shingles, metal, concrete, slate, wood shake, gravel and masonry shingles. Spraying a roof is the quickest way to apply paint to the surface, but paint sprayers can be expensive and the extensive preparation and mess can be a hassle. Paint rollers allow you to paint a roof relatively quickly with minimal risk of property damage.
Step 1
Scrub the entire roof with a soft-bristle brush and roof-washing solution to dislodge dirt, grease and mildew.
Step 2
Power-wash the roof with a high-pressure hose.
Step 3
Hang plastic sheeting beneath the edges of the roof to prevent paint dripping onto exterior walls and windows. Lay plastic sheeting around the perimeter of the house to prevent paint from dripping onto the ground.
Step 4
Pour primer into a paint tray. Dip your roller into the primer and roll it up and down on the angled part of the tray to evenly distribute primer onto the roller. Use a foam roller for a corrugated or textured roof surface and a universal cover roller for flat surfaces.
Step 5
Roll the paint roller up at an angle, starting on one edge of the roof. If your roof is highest in the center, start at the center and work your way down. Draw the roller down, up, down and up again in four zigzag strokes, each about 2 feet long, to make a big W. Turn the roller on its side and roll horizontal paint strokes over the angled strokes to eliminate stroke lines. Use this W-pattern method to cover the entire roof.
Step 6
Prime small, hard-to-reach areas of the roof with an angled foam brush. Allow the primer to dry overnight.
Step 7
Paint the roof using the same strokes and techniques you used to prime the roof. Let the paint dry overnight and apply a second coat if desired.
Tip
Paint the roof on cool, dry, calm days in the morning or afternoon. Avoid painting when the weather report indicates precipitation or extreme heat within the week.
Use masonry primer to prime stone or clay roofs.
Warning
Attempting to roll paint onto heavily textured roofs, such as those made from terra-cotta or cement tiles, can be quite time-consuming. Consider renting a paint sprayer for these types of roofs.