Things You'll Need
Measuring tape

100 percent cotton yarn (200g)

U.S. Size 2/2.75 mm knitting needles

Sewing pins

Spray bottle

Tapestry needle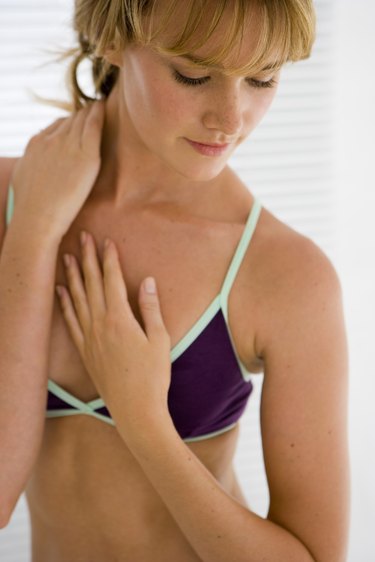 Invented in 1863 by Luman Chapman as an alternative to the corset, the bra is a staple in women's undergarments. Although there is a wealth of styles from which to choose, the bra's simple design of two cups and straps has endures. With soft cotton yarn and knitting needles, even the most novice of knitters can create a customized bra that's made-to-measure.
Step 1
Measure around your ribs, just under the breasts, to the nearest half-inch to determine your size. Add one to this measurement and then multiply by six. This is the number of the stitches you will need to cast on for the bra band. If you have a measurement of 30 inches, for example, you add one (31) and multiply by six (186) to cast on a total of 186 stitches.
Step 2
Beginning with a purl row, knit five rows in stockinette stitch (alternating rows of knit and purl).
Step 3
Take the number of stitches you cast on, subtract 20 and divide by two. This is the number of stitches that you now need to bind off. For 186 stitches, for example, you would need to bind off 83 stitches.
Step 4
Continue knitting in stockinette stitch, decreasing one stitch at the beginning of each row. Repeat until there are no stitches remaining.
Step 5
Begin knitting the left cup of the bra by casting on 18 stitches. Purl every stitch on the first row.
Step 6
Knit the next two rows. For the first row, knit one stitch, make one stitch and then knit to the end. Purl all stitches on the second row. Repeat until you have 35 stitches on your needle.
Step 7
Knit the next row by knitting the first stitch, make one and knit to end.
Step 8
Continue knitting by repeating the following pattern five times: for the first row, bind off six stitches and purl to the end. For the second row, knit one, make one, knit to the last stitch and turn your work.
Step 9
Bind off the remaining six stitches on your needle.
Step 10
Repeat steps 5 through 9 to make the right cup but instead of making one stitch at the beginning of the row, make one stitch at the end. This is called reverse shaping.
Step 11
Make the straps by casting on four stitches and working in stockinette until you have reached the desired length. Bind off all stitches and weave in any ends.
Step 12
Block each piece of the bra by pinning to a flat surface and spraying liberally with water. Allow to dry naturally.
Step 13
With yarn and tapestry needle, sew the left and right cup to the bra band and then sew each strap in place.
Step 14
Thread satin ribbon through each end of the bra band and tie in a bow to secure in place.