Things You'll Need
Tropical Vacation Theme:

Plastic palm trees

Potted tropical plants

Grass table skirts

Tiki torches

Hammock

Memory Lane Theme:

Memory book

Photo theme

Poster board

Golf Theme:

Golf turf

Golf balls

Golf scorecards

Golf carts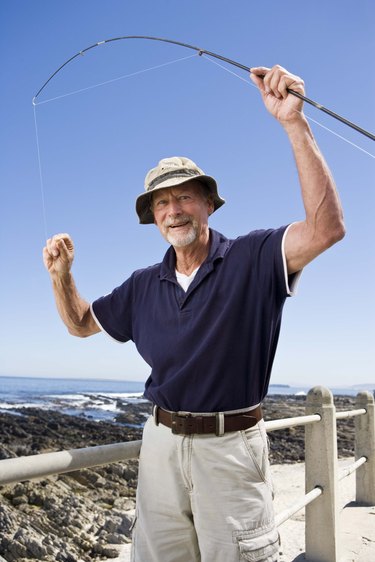 Retiring is a special, bittersweet moment in a person's life; and it deserves to be celebrated in a big way. If a special man in your life is retiring, whether he is your husband, father or close friend, create a themed retirement party that combines fond memories and bright futures with something he loves. Although popular themes for a retirement party include relaxing on the beach with a drink, or golfing, consider the passions of the retiree when making a final decision.
Tropical Vacation Theme
Step 1
Set up plastic palm trees around the perimeter of the space and fill-in with lush tropical plants, if possible. Put toy parrots in or around the trees, or rent real parrots, if you can.
Step 2
Dress each table with a grass skirt and a tropical flower centerpiece. Place a hula lady figurine at each spot as a souvenir. Use bright colors for plates and utensils. If you are having a buffet, the buffet table should also have a grass skirt lining it, as well as the DJ table, if possible.
Step 3
Set up a tiki bar and hire a bartender that knows how to make popular tropical drinks. See if he can mix up a special drink in honor of the retiree.
Step 4
Set up tiki torches throughout the party space. Don't use real fire however; Use battery operated tiki torches instead.
Step 5
Set up a hammock between two trees and place a man's hat, and a newspaper in the hammock. Set a tropical drink on the floor next to the hammock to create the relaxed retirement scene.
Memory Lane Theme
Step 1
Set a up a memory book at the entrance to the party space, asking guests to record a special memory they have with the honoree.
Step 2
Make a collage of pictures of the retiree on poster board, specifically pictures of him at his workplace throughout the years -- to use a tabletop decorations. Place the pictures under glass, so that guests can see the pictures; but they are protected from damage. You could also place a framed photo at each table of the retiree in different stages of his life and career.
Step 3
Create an actual Memory Lane in the center of the party. Cut and attach several pieces of poster board together to create a "lane", then add pictures of the retiree from birth to now. Laminate the poster boards; then tape them to the floor securely.
Step 4
Place a banner above the video screen you should have to show a slide show or video of the retiree. The banner can say something related to the theme such as, "walking down memory lane", or "Thanks for the memories"
Golf Theme
Step 1
Cover the entire floor area with golf turf, if possible; and leave an area free of tables that can be used as a putting green. Place giant golf flags throughout the party to give it the look of being on an actual golf course. Hang golf clubs on the wall.
Step 2
Place a basket of golf balls at each table as the centerpiece. Provide permanent markers and have the guests write a message on a golf ball to the retiree. Use utensils designed with ends that look like golf handles and white plates to represent golf balls. You could also place a miniature set of golf clubs in a vase as a centerpiece.
Step 3
Have a couple of golf carts at the entrance to the party and have someone dressed as a caddy hand out the program for the evening, which should look like a golf scorecard.
Step 4
Set up an elegant bar and buffet area that looks like service you would get at a five-star golf resort, using white linens and fine china and have all the waitstaff dress as golf caddies.
Tip
Try to match the cake to the theme, such as a cake with a beach scene for the tropical vacation theme and a golfcourse cake for the golf theme.