Consider a draped ceiling for an impressive look at a wedding reception site. Draping the ceiling is one of the simplest yet most dramatic and cost-effective decorations for your wedding reception. The drapery style and ceiling type will affect the items needed for installation. However, coupled with a few well-chosen ceiling decorations, your wedding venue can sparkle with charm and elegance for your big day.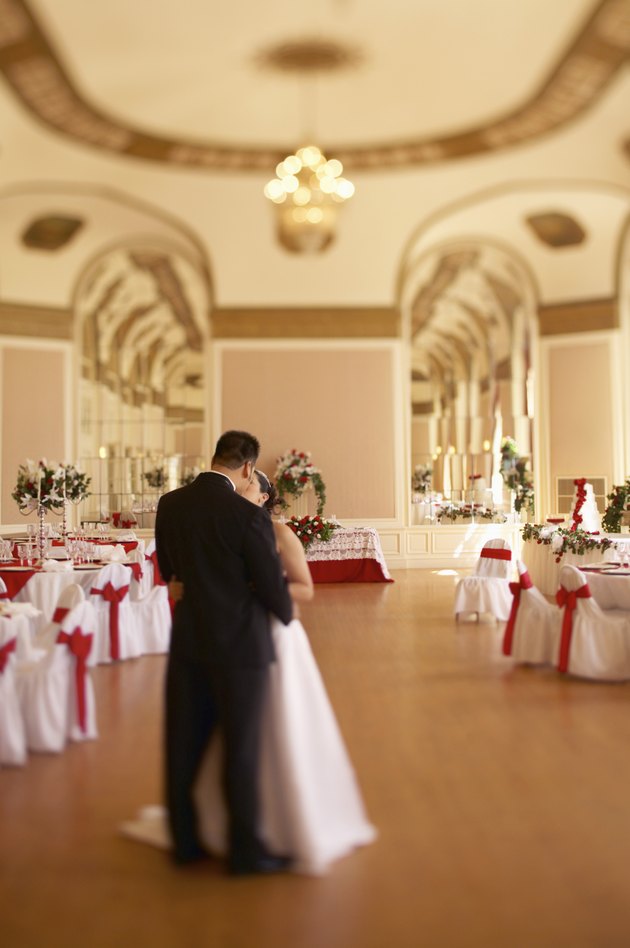 Things You'll Need
Fabric

Sewing machine (optional)

Ladder

Velcro strips

Nails

Hammer

Staple gun and staples

Tape or hooks

Curtain rods (optional)

Lights, streamers, mobiles, or other ceiling decorations

String, yarn, ribbon, or fishing line to hang ceiling decorations

Scissors
Draping the Ceiling
Step 1
Measure the size of your venue, taking into account the ceiling height, plus the length and width of the room, or ask the venue owner to provide you with accurate measurements. Make sure the venue owner allows draperies to be hung in the space, and ask if there are any safety codes you must follow to do so.
Step 2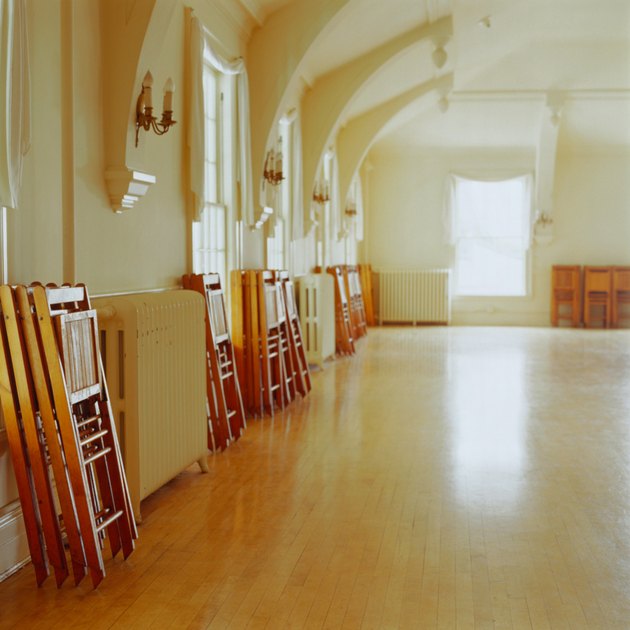 Consider how much of the ceiling you want to drape and in what style: octopus (long panels of fabric extending from a central point); canopy (long panels running symmetrically along the length of the ceiling with slight drapes); or banners (individually gathered fabric lengths hanging with deep swags at various points on the ceiling).
Step 3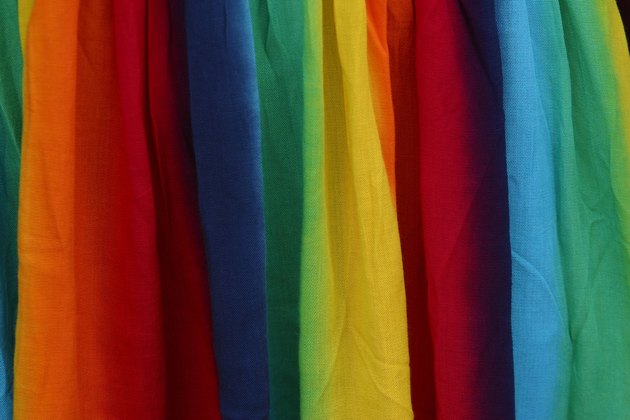 Purchase enough fabric to create all of your draperies. Consider that you will need to double or even triple the length of the fabric, compared to the length of the ceiling, depending on how far down you want the fabric to drape between hanging points. You can also purchase ready-made curtains if they will work with your design. Sew ready-made curtains end-to-end if they are not the correct length.
Step 4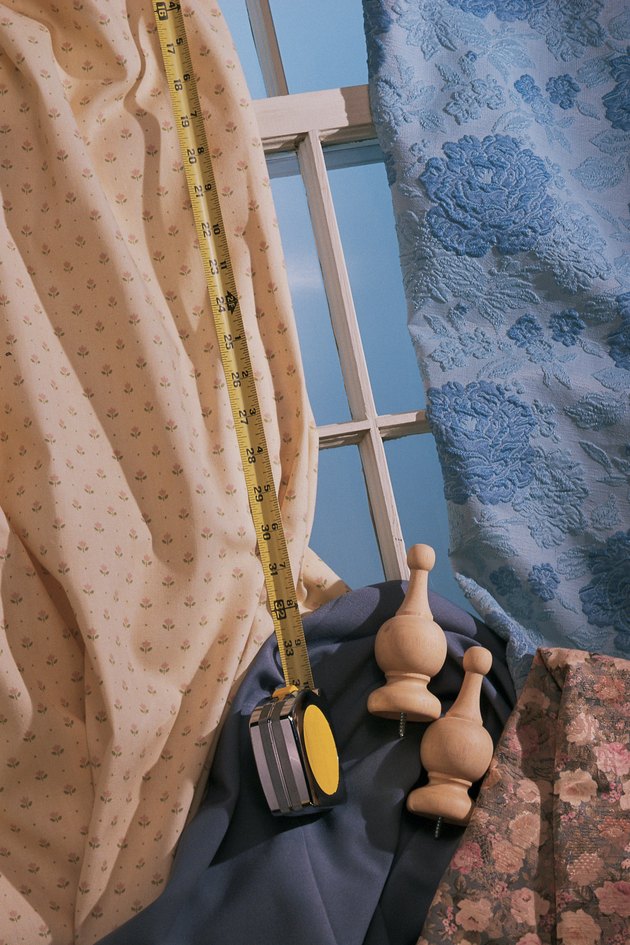 Contact the venue to discuss draping options. Will the venue owners allow you to drill holes for hooks? What about the room's structure may inhibit certain designs? Ask if a member of the venue's staff can help you hang the draperies for your wedding reception.
Step 5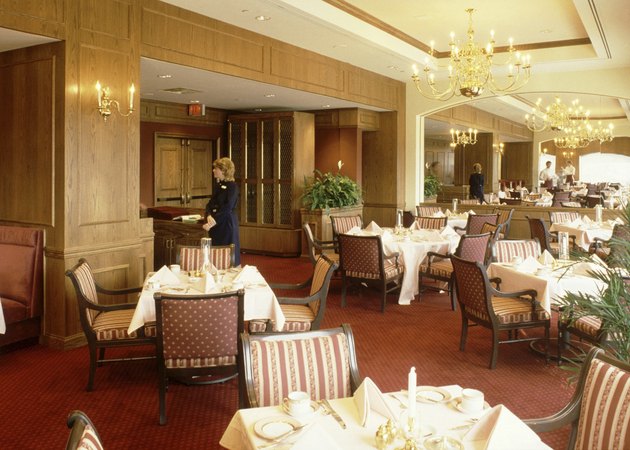 Install the draperies the day of the event, based on the type of draperies and the ceiling. If the ceiling has exposed beams, you can easily tie the fabric around each beam, or simply lay it across the beams, attaching the fabric to the beams with self-adhesive Velcro, staples, or nails. If the ceiling has a repeated drop tray design, hide the fastenings in the lips of the trays, using tape, hooks, nails, or any other fastener the venue allows. If it is a tiled ceiling, lift the tiles out of their frames, attach the fabric to the frame, and replace the tile, for each hanging spot.
Ceiling Decorations
Step 1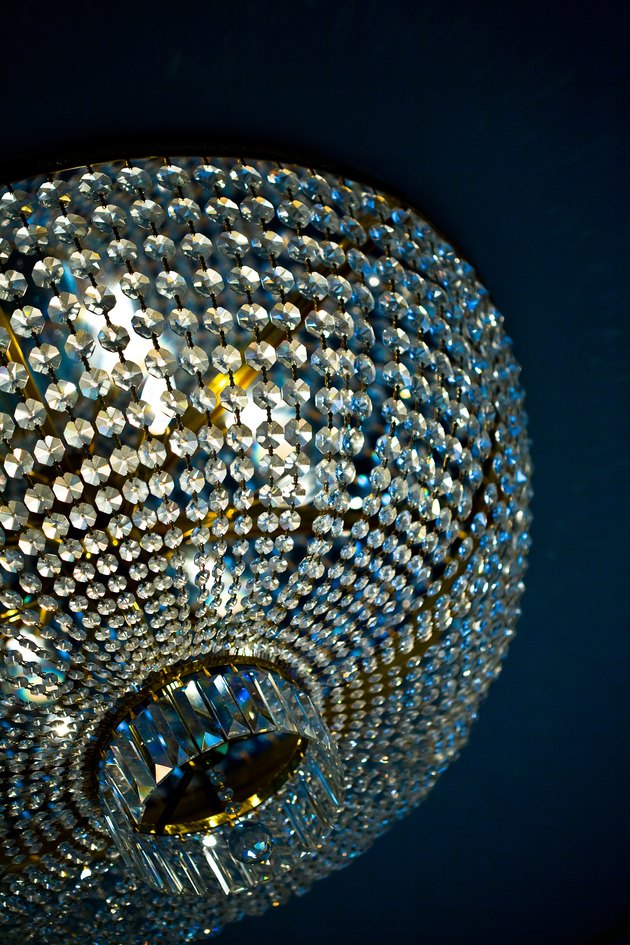 Choose ceiling decorations to coordinate with your wedding theme. For example, hang garlands of red, orange, and yellow leaves for a fall wedding, or strings of old records for a vintage-themed wedding.You can also use the bride and groom's heritage, ethnicity, or cultural background as inspiration for decorations. For example, hang paper lanterns for a Chinese wedding, or origami animals to celebrate a Japanese heritage.
Step 2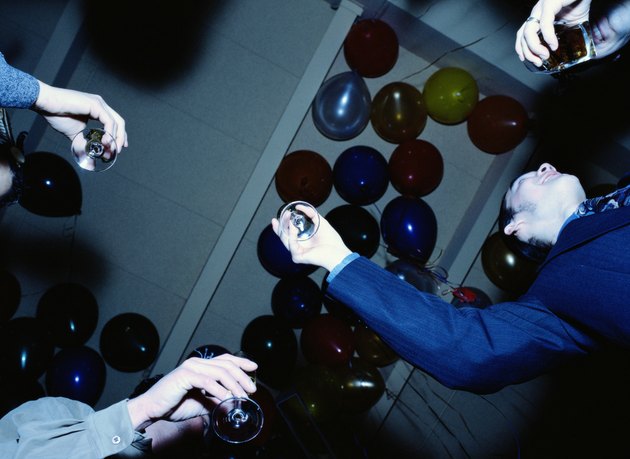 Research decorations that can be bought in bulk and in your wedding colors, such as light strings, paper mobiles, garlands, streamers, or even wind chimes.
Step 3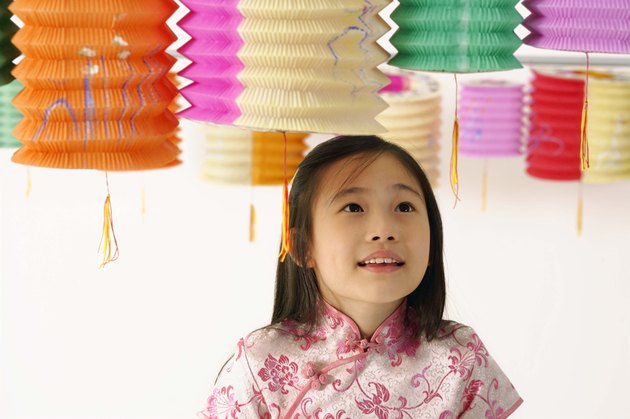 Calculate how many of each decoration you will need based on the ceiling square footage. For example, if your ceiling is 40 feet by 40 feet, you have 1,600 square feet to decorate. If you want to hang a streamer once every 2 feet in a square grid pattern, you will need 800 streamers. Order your decorations in bulk according to the number needed.
Step 4
Hang your ceiling decorations after installing the draperies. You can even hang some decorations from the draperies. Again, make sure to check with the venue owner about what hanging and installation methods are acceptable.
Tip
Tulle and gossamer are low-cost fabrics that work well for draperies. For extra flair and fun, sprinkle confetti into the folds of the fabric while you are on the ladder hanging the draperies. You may need to sew tubes into your draperies for curtain rods, depending on how you will be hanging them. Curtain rods are helpful for supporting large, heavy draperies. Be kind to your venue owner: Leave the location in the same condition it was in before you hung your draperies. Because you will be buying a large volume of fabric, seek out online suppliers who sell fabric in bulk or at heavily discounted prices. Use fishing line, ribbon, yarn, rope or cord to hang decorations from the ceiling.
Warning
Some states may require you to use fire-retardant fabric for decoration purposes. Check your local regulations before choosing your fabric. Always use caution when working on a high ladder. Hang your draperies well before the event so if there are any problems they can be corrected before the event starts. Practice your drapery technique to make sure it is strong enough to hold before attempting it in the venue.