Things You'll Need
Gray or silver hooded sweatshirt

Silver metallic netting

Fabric glue

Gray or silver tights, leggings or sweat pants.

2 large pieces of felt

Scissors

Stick-on Velcro tabs

Duct tape

Craft knife

Velvet or satin fabric

Ribbon

Cardboard

Silver acrylic craft paint

Rubber boots

Silver spray paint

Large plume feather

Safety pins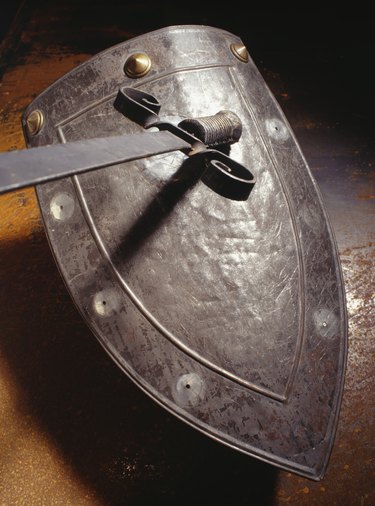 A knight costume has great appeal for many young boys. If your child wants to dress up as a knight for a theme party, medieval reenactment or Halloween, you will need to assemble several items to create an effective costume. However, the costume is straightforward to put together and he will be ready to go looking for dragons to slay in no time.
Step 1
Wear a gray or silver-colored hooded sweatshirt as a base for this costume. Team it with tights, leggings or sweat pants in the same color. To make the items look like chain mail, cut out pieces of silver metallic netting to cover the hood, arms and legs, and glue them in position with fabric glue. They don't need to fit perfectly, just to give the right effect.
Step 2
Make a tunic from a large piece of felt. Measure from your child's shoulder to mid-thigh. Cut a piece of felt to double this measurement. Fold it in half crosswise and cut a neck hole in the center of the fold. Place it over the neck and secure at the sides under the arms with stick on Velcro tabs. Cut a fleur-de-lys emblem or medieval-style cross from colored duct tape, using a craft knife. Stick it to the front of the tunic.
Step 3
Make a cape from a rectangular piece of satin or velvet in a bright color. Sew or glue ribbon ties in place at one end of the rectangle and tie it loosely around your child's shoulders.
Step 4
Make a shield by cutting a diamond shape from a large piece of cardboard. Paint it with silver acrylic craft paint and let it dry. Cut a fleur-de-lys or cross symbol from duct tape or construction paper as before and stick it to the front of the shield. Add a handle to the rear of the shield by gluing a 5-inch by 2-inch strip of cardboard in place. Bend 1-inch in from each end to make tabs to glue in position.
Step 5
Cut a flat sword shape with a cross-shape handle from cardboard and paint it with silver acrylic craft paint. Finish the costume by wearing rubber boots sprayed silver. Add a large plume feather to the top of your hood helmet, securing it in place with glue or safety pins.
Tip
Look online for fleur-de-lys or medieval cross-shape patterns to print and trace.
Warning
Ensure ribbon ties are not tight around your child's neck.