Things You'll Need
Pins

Sewing machine

Thread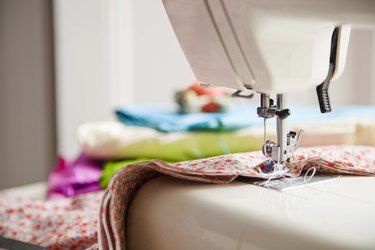 Purchasing a perfectly fitting shirt may be nearly impossible. Most retail shirts are manufactured for generic bodies. Some people may find a new shirt to be too large or small in certain areas. Fortunately, most shirts can be tailored to fit exactly. If the waist is too loose, taking in a few inches off can significantly improve the shirt's fit. Use a sewing machine to tighten the waist and sides of the shirt in a few minutes.
Step 1
Button all of the shirt's buttons, excluding the top button. Remove the shirt, and flip it inside-out. Place your head and arms underneath the large opening to put on the shirt.
Step 2
Pinch several inches of the excess fabric from the bottom of the shirt's waist with your fingers. Grasp the fabric until it fits snug like you want it to. Secure the pinched fabric with pins.
Step 3
Tailor the rest of the shirt's side seam by pinching the fabric above the waist and securing it with pins. Pin all the way from the bottom of the shirt until you reach the armpit. Repeat for the other side of the shirt. If your are comfortable with the new fit, remove the shirt and place it on the sewing machine.
Step 4
Begin sewing the fabric where you made your pin insertions, starting at the armpit. Sew all the way down to the bottom of the shirt. Press the "Reverse" button on your sewing machine to change the stitching direction. Stitch in the opposite direct for a few inches to secure the ends; this will prevent them from unraveling.
Step 5
Stitch the other side of the shirt to complete the sewing process. Cut off the excess fabric using a pair of scissors and remove the pins. Turn the shirt inside out to wear.