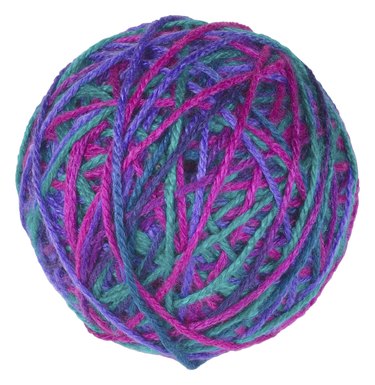 Homemade afghans come in a range of designs, sizes and weights. They can be anything from a lightweight yarn spun into what appears to be a particularly lovely spiderweb to a heavy wool blanket that appears indestructible. Deciding how many skeins of yarn will be needed for the afghan requires accounting for the pattern, the kind of yarn and the size of afghan. The brand of yarn will also help determine how many skeins will be necessary for the project.
Step 1
Pick out yarn. Common yarns used for afghan-making include sock weight, sport weight, double knit, worsted or bulky. Decide on the size of the afghan and read the pattern to discover the stitching gauge used to create the afghan.
Step 2
Reference the crochet chart that came with the pattern to determine the amount of yarn needed for the afghan. A baby afghan crocheted in worsted weight requires 1,000 yards of yarn. An adult afghan worked in finger weight yarn needs 3,500 yards while the same afghan worked in bulky yarn requires 1,875 yards of yarn.
Step 3
Check the label on the yarn skein for the number of yards in the skein. Different brands of yarn include a different number of yards per skein. Divide the number of yards needed for the afghan by the number of yards in each skein of the chosen yarn. This is the number of skeins needed for the afghan.