If you're looking for a costume that's relatively easy to create yet still has that "wow" factor, David Bowie's glamorous alter ego, Ziggy Stardurst, is the ideal choice.
After a quick trip to your local drugstore's makeup aisle, you'll be armed with all the affordable supplies you need to transform yourself into the iconic, out-of-this-world rockstar. With a little eyeliner (and a whole lot of face paint), you'll be ready to jam like an extraterrestrial rock sensation.
Completing the David Bowie Ziggy Stardust costume by wearing a retro bodysuit is encouraged but not required.
Things You'll Need
Primer

Glue stick

Light shade of foundation

Beauty blender

Light shade of concealer

Concealer brush

Translucent powder

Powder brush

Powder bronzer

Bronzer brush

Red face paint

Red eyeshadow

Copper eyeshadow

Eyeshadow brush

Blending brush

Fan brush

Small eyeshadow brush

White highlighter shadow

Eyeliner brush

Black eyeliner

Black mascara

Red pencil eyeliner

Flat brush

Black liquid eyeliner

Blue pencil eyeliner

Gold lip gloss with shimmer

​Optional​: Bodysuit or jumpsuit
Apply a layer of primer to your face so the makeup has something to adhere to.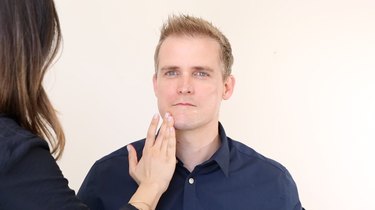 Add Glue Over Your Eyebrows
Use a glue stick to apply glue over your eyebrows. This will help you conceal them with makeup in a later step.
Apply a light shade of foundation over your entire face, using a beauty blender to get even coverage.
Conceal your eyebrows with foundation by going over the glue you applied earlier, using a beauty blender to add more pigment as necessary.
Add Concealer to Your Forehead
Apply a light shade of concealer to the center of your forehead, the bridge of your nose, around your eyes (including over your eyebrows) and to the middle of your chin just below your bottom lip. Blend first with your fingers and then with a beauty blender as needed.
Set these highlighted areas with translucent powder, using a powder brush.
Use a concealer brush to blend the concealer around your eyes.
Use a bronzer brush to apply powder bronzer under your jawbone, under your cheekbones, on the sides of your nose and along your hairline. Remember, you want that harsh contrast for dramatic glam rock effect, so apply bronzer liberally.
Add Some Color Around the Eyes
Use an eyeshadow brush to apply highly pigmented red face paint to your eyelids.
Set the paint with red eyeshadow. Starting in the center of each lid, use your fingers and a blending brush to blend the shadow outward — toward the corners of your eyes and up toward your brows.
Use a clean eyeshadow brush to apply a copper shadow to the center of each lid and in the corners of each eye.
Tip
Clean up any shadow that's fallen onto your cheeks with concealer and a beauty blender.
Use a bronzer brush to apply red shadow over the contoured areas — along your hairline, under your cheekbones, on the sides of your nose and under your jawbone. Blend with a fan brush.
Apply red shadow to your lower lids using a small eyeshadow brush. Keep the pigment brighter in the middle and outer corners.
Highlight the inner corners of your eyes with a white highlighter shadow. Then, take black eyeliner and line your lower lid from the outer corner to the middle of your lid, bringing the liner up on the outer corners slightly. Blend and smudge with an eyeliner brush.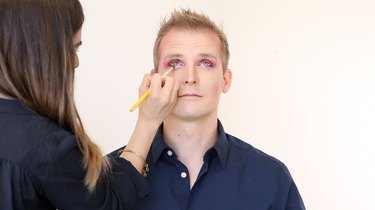 Apply black mascara to your upper lashes.
Outline Ziggy Stardust's Lightning Bolt
Draw the outline of Ziggy Stardust's signature lightning bolt with red eyeliner. Starting from the center of your hairline, bring the liner down to the arch of your left eyebrow. Then, draw a parallel line from your hairline to the beginning of your left brow. Draw a triangular shape above your nose and the beginning of your right brow to complete the upper half of the lightning bolt shape on your forehead.
Complete the bolt outline on your left cheek with the red eyeliner. Then, fill in the bolt using red face paint and a flat brush.
Use a black liquid eyeliner to trace along the outer edge of the bolt line, starting from the bottom and working your way up.
Using a blue pencil eyeliner, trace along the black liner.
Tip
Set the lightning bolt with translucent powder, using a powder brush, to ensure the makeup doesn't budge.
Apply a lip gloss in a shimmery gold color for your final Space Oddity touches.
All that's left to do is squeeze yourself into a bodysuit and channel your inner Starman with this DIY Halloween costume. If you have a cape and happen to be rocking a mullet, you'll be mistaken left and right for the iconic rocker himself.
What's so great about David Bowie's fashion sense is that it's unisex, so anyone can use this Halloween costume idea to become a glam pop star.