Things You'll Need
17 to 23 rounded 13mm beads

20 to 24in of 1mm cord or string

One 3-to-1 hole bead

Cord tip

Tassel

Pliers

Wire nippers

Scissors

Decorative spacers (optional)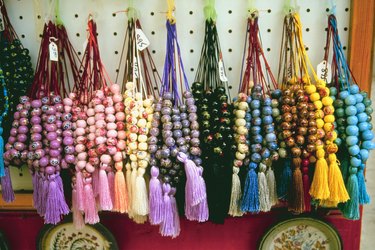 Greek komboloi are a specific type of worry bead bracelet that is believed to aid in stress relief. These beads have been in existence since ancient times, and the rhythmic clinking sound they create is thought to soothe a worried or stressed mind. These beads come in many different designs; however, the basic format is a string of around twenty beads with a tassel at one end. The beads are traditionally made of amber for its healing properties, as well as blue glass to ward off the evil eye, but you can use any kind of bead variety you like.
Assembling the Komboloi
Step 1
Choose the beads you'd like to use for your komboloi bracelet; you could use a traditional variety like amber or blue glass, or simply use any other variety you find appealing, provided it is sized at 13mm.
Step 2
Cords are generally 20 to 24 inches in length; customize the size of your komboloi by wrapping the cord around your open palm twice. Cut the resulting length using a pair of scissors. Use any kind of cord you wish, provided it is sized at 1mm.
Step 3
Begin threading the beads over your cut piece of cord. Add decorative spacers between the beads if desired. Alternate colors or patterns of beads if you wish.
Step 4
String both ends of the beaded cord through the holes in a larger 3-to-1 hole bead.
Step 5
Cut off the eye of a cord tip using a pair of wire nippers. If the edge is rough, you can use sandpaper or a nail file to smooth it down.
Step 6
String the two ends of the cord through the tip of your tassel. Purchase a ready-to-use tassel, or create your own by bending a 4-inch piece of wire into a U-shape, draping pieces of chain or string, and twisting the wire to hold them in place. Fold the cord tip over the cords in the tassel along with the main cords. Use your pliers to crimp each side of the cord tip securely.
Step 7
Clip any loose cord bits using a pair of scissors; do not cut the main cord.