Things You'll Need
Chisel

Hammer or mallet

Sandblasting equipment

Mortar groat

Sealer

Bonding agent

Epoxy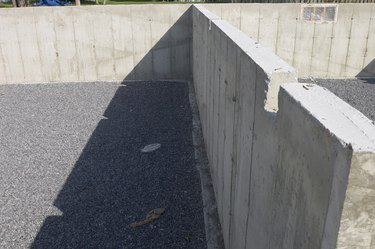 A homeowner may notice cracks in the stem wall of his home foundation. The stem wall is the exposed concrete when the footer of the foundation was installed beneath the ground. A stem wall can be several inches to several feet above ground. Rebar is used to reinforce the strength of the foundation. Yet incorrectly installed rebar may become exposed to the outside elements due to a cracking foundation and could begin to rust. You can clean the rebar and protect it from future damage.
Step 1
Chip around the rebar with the chisel and mallet if the concrete is loose. Allow for 1 inch of clearance.
Step 2
Sandblast the rust from the rebar with the sandblasting equipment. Ensure to read all operation and safety instructions for the sandblaster before use.
Step 3
Apply sealer to the rebar. Cover the concrete in the bonding agent. Place mortar groat into the open voids in the concrete.
Step 4
Inspect the wall for any more cracks and fill them with epoxy. Place sealer on the stem wall to protect it from moisture penetration.