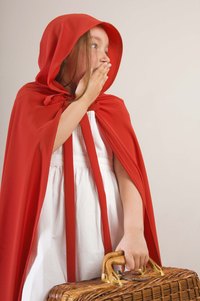 Superhero capes and little red hoods are costume pieces that children beg their parents to make during Halloween or for regular play. Using felt, parents can make a cape with a hood without sewing or the need to hem the cape. Another benefit of using felt is that it is warm and will help keep the cool Halloween night air from the child's neck and head. With a few simple steps, a simple cape can be made for the adventurous child.
Things You'll Need
Large square of felt
Scissors
Lay a large square of felt down on the floor or work space.
Pick one corner of the square to be the hood. Measure 6 inches from the corner on both sides and mark the spot with chalk.
Use scissors to round the corner of the square chosen for the hood.
From the chalk markings on the sides, cut a 1-inch strip into the felt making sure the strip is still connected to the cape at the chalk marking and open all the way down to the end of the sides.
Place the cape on the child's head with the rounded corner over their head and the rest of the cape hanging behind him. Tie the two strips of felt around the child's neck, loose enough to not choke the child.