Things You'll Need
Drawing of choice

Two paper clips

Ball-point pen

Scissors

Rubbing alcohol

Cotton ball or swab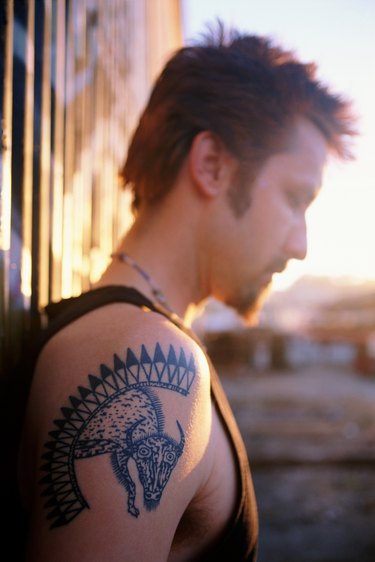 Tattoo artists today are able to take any piece of artwork a client desires, and ink it by using transfer paper. Artists who wish to showcase a personal piece of art as a tattoo can draw out the sketch, then take it to a local tattoo parlor artist. Transferring the artwork can be simple, and will keep the design as true to the original as possible. Even if you do not want to make your design permanent, you can still use the steps to transfer your artwork to your skin without getting inked.
Step 1
Remove the inner leaflet of paper from the carbon paper. Slip your drawing between the tracing paper and the carbon paper. Secure two of the sides of all three pieces of paper with the two paper clips.
Step 2
Use the ball-point pen to trace over your drawing. Press firmly, and fill in any thick lines.
Step 3
Remove the transferred design, and cut out the traced drawing with the scissors.
Step 4
Pour a small amount of rubbing alcohol onto the cotton ball or swab, and apply the alcohol over the area of skin you wish to transfer the design to. Make sure the skin has become moist with the alcohol.
Step 5
Lay your drawing over top of the moist area, and apply pressure to the drawing. Continue to press the drawing onto the skin until all the lines have become transferred.
Step 6
Peel off the transfer paper, and let the stencil dry. Once fully dry, you are ready to ink your tattoo if desired.
Tip
Always remember to reverse your design so it shows correctly on the skin. For areas of the body with hair, shave the skin and wash it clean before applying the drawing. Clear gel deodorant, the kind that does not leave white residue, can also be used instead of rubbing alcohol. Water can also be used to make the skin moist if you cannot use rubbing alcohol or gel deodorant.
Warning
Perform an allergy test by rubbing a small amount of the rubbing alcohol on your inner wrist 48 hours prior to applying the drawing, to make sure you are not allergic to the alcohol.