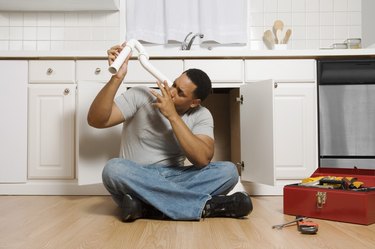 A clogged drain can literally back up progress when it comes to housework or routine personal hygiene. Liquid-Plumr is a popular product used by many homeowners who find themselves dealing with clogged drains. According to the manufacturer, it is safe for septic systems.
Why It's Safe
According to the manufacturer, the product rapidly degrades and will not harm the beneficial bacteria in a septic tank.
Types of Plumbing
Liquid-Plumr is safe to use on all types of household plumbing, except rubber pipes. Dishwashers typically have rubber pipes, so it is not recommended to use the product in this appliance. It is also not designed for removing clogs in toilets.
Formulas
Liquid-Plumr is available in several formulas: regular, power gel and foaming pipe snake. Safe application applies to each form of the product.