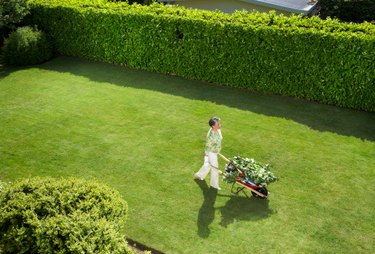 One of the more popular and fastest-growing hedge plants is the California privet (Ligustrum ovalifolium Hassk.) It will grow at the rate of more than three feet a year and will reach heights of up to 10 feet tall within three years after planting.
Privacy Hedge
The privet, whose name means private, will grow into a thick, green hedge that offers privacy and seclusion to the landscape. The dense shrub will block out unwanted visitors, street noise, dust, wind or unsightly views.
Growth Conditions
Privet will grow well in full sun or part shade and is not fussy about the soil. Initially it needs moderate water but is drought tolerant once established. The shrub blooms all summer with cream-colored flowers that attract bees. After the flowers are spent, a dark-purple fruit attracts birds. Privet will grow well in USDA Hardiness Zones 3 to 7.
How to Grow Privet Quickly
If you want a fast-growing privet hedge, start with plants that are at least three-years old. Plant them within 18 inches of each other so they will intertwine and fill in faster while they are growing. When the shrubs mature, they will provide a dense hedge.