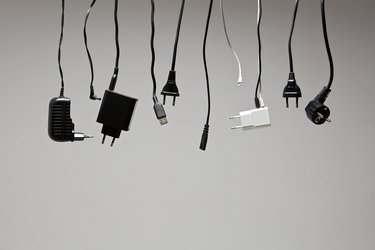 Wires and power cords have standardized markings to ensure that electricians and everyone else who uses them know how to wire these products in the right ways. The three kinds of electrical wires include hot, neutral and ground. Hot wires carry electricity from breaker panels to light sources and switches, and neutral ones take the unused current and electricity and transport it back to the breaker panel. Ground wires move out extra electricity that you don't need. If you see a ribbed lead on a power cord, it's indicating that the wire is neutral. If the wire is smooth, it's a hot wire, and green wires are ground.
The power supplied to homes comes from alternating current (AC) generators. AC currents change their directions many times per second, so positive and negative terminals do not apply. With the wires, one is hot, and the other one is your return or neutral wire. You won't feel any electrical sensation when you touch a neutral wire, but you will get shocked if you touch a hot one. There are a few ways to tell them apart since appliance manufacturers distinguish these wires in various ways.
Appliance power cords usually have stranded copper conductors coated with rubber insulation, and this insulation is usually fused together. One of the wires should have a white stripe or ribbing, but the other will not. The white stripe or ribbing indicates a neutral wire. If you can't see this, you may have to pull apart the wires. When there are no markings and the plug's prongs are both the same size, the cord is not polarized. This is very unusual for appliances manufactured in North America.
With power cords, an electrical wire that is totally smooth on the outside is the hot wire, which is then connected to the smaller terminal or prong on the plug. When you see wires with ribs or ridges, these are the neutral wires. Ribbed leads like these are connected to larger (polarized) prongs if there are any on the plugs.
When you have a flat cord with three wires, there are three different types of wires with three different textures: a smooth (hot) one, a ribbed (neutral) one and a green (ground) wire. Although you can't see the ground wire when the plugs are on the cord, it is always between the hot and neutral wires. Ground wires extend downward, and modern homes have grounded electrical panels and outlets throughout their infrastructure. The electricity goes back to the breaker panel and then outside toward a rod buried in the ground, which gives excess electrical charges somewhere safe to go.
The Importance of Electrical Safety
An incorrectly wired electrical wall plug or electrical wiring is hazardous and poses the threat of shock, fire or even death. Wiring should only be performed by licensed, trained electricians. It also needs to conform with local regulations and the National Electrical Code.
When wires are insulated with rubber or plastic sheathing, you might find two or three wires when removing that covering. You should see a neutral white wire; the National Electrical Code mandates that these wires always be this color. There is no specific hot wire color, but these are usually red or black. A ground wire will be bare or green.
If you need to make a quick fix, take the proper safety precautions. You can check with the local electrical-codes department to ensure that you are working safely, and it may advise you against doing it on your own. Otherwise, use tools with rubber grips, wear rubber-sole shoes and only work on nonmetallic ladders. Never use electricity when standing on a wet floor.