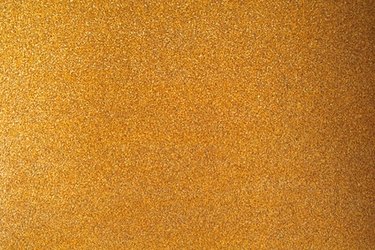 Any type of paint is suitable for use on a polyurethane treated surface as long as the surface is pretreated, beforehand. No type of paint will stick to ill-prepared polyurethane surfaces. Improper preparation will ultimately lead to paint failure in the way of chipping and peeling.
Sanding
Do-it-yourselfers should abrade the polyurethane with 120-grit sandpaper, prior to application, to promote primer and paint adhesion.
Priming
Paint will not adhere to polyurethane treated surfaces unless they are primed. Water-based latex and acrylic latex primers are not appropriate for conditioning polyurethane. Applicators should use a quality oil-based primer that is compatible with water-based paints. Benjamin Moore's Fresh Start, Zinsser's Cover Stain and Sherwin William's Prep Rite are all suitable for coating polyurethane.
Acrylic Latex Paint
Acrylic latex paint is suitable for primed exterior polyurethane treated surfaces that are not forced to endure large amounts of duress.
Oil-based Enamel
Oil-based enamels are ideal for polyurethane treated surfaces that must remain resilient in the face of duress.
Acrylic Enamel
Acrylic enamels are ideal for do-it-yourselfers who desire the durability offered by oil-based enamels, but want to avoid the unpleasant fumes.