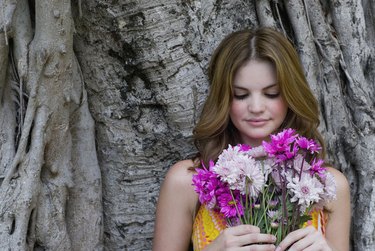 Ophelia flowers are not a single species; they are a grouping of flowers and herbs that hold symbolic meaning based on the Shakespeare play "Hamlet." Ophelia is a tragic heroine who was romantically involved with Hamlet and whom most of the other characters mistreat. In Act IV, Scene 5, she gives a famous monologue and then drowns a few scenes later. As she speaks in Scene 5, she names and distributes certain flowers and herbs in accusations for particular characters in the play.
What Are the Ophelia Flowers?
Ancient plant symbolism was a big thing back in Shakespeare's day, and Ophelia chose flowers that are best suited to each of the recipients. She was feeling deep grief and sorrow in the scene because Hamlet had just killed her father, Polonius. Why did she distribute flowers and herbs instead of confronting her tormentors with words? Flowers were an indirect way of stating her opinions. In Shakespearean times, people could be killed for dissing people in power, like kings and queens, especially in public.
The flowers and herbs that Ophelia chose are rosemary, pansy, fennel and columbine. She also gave out rue, daisy and violet. There are seven Ophelia flowers and herbs in total.
Meanings of All Ophelia Flowers
Rosemary symbolizes remembrance and faithfulness, and Ophelia gives this plant to her brother, Laertes. Laertes returns home to learn that their father Polonius is dead, and Ophelia wants him to determine who committed the murder. Pansies have a similar symbolic meaning; they stand for thoughts and faithfulness, and she also gives these to Laertes. Next, Ophelia gives King Claudius fennel, which stands for flattery and points out that he has quite an ego.
King Claudius also receives columbine, meant to represent ingratitude and infidelity. Ophelia is indirectly accusing him of foolish adultery, faithlessness and ingratitude. Next, she approaches the queen to give her rue, a plant also associated with adultery. Rue is also a symbol for true repentance of all of women's transgressions and everlasting suffering. Interestingly, in the time period of Shakespeare's play, rue flowers were commonly used to induce abortions, so Ophelia giving this flower to the queen also ties in with the adultery theme.
More Ophelia Flower Meanings
After Ophelia gives out these flowers and herbs, she sees a daisy. Although she picks it up, she puts it back without giving it to anyone. Daisy symbolizes innocence, and so she says, "There is no innocence here." She does not give them violets either, the symbol for fidelity or faithfulness. She tells the gathering that she would have given them some but that they had all withered when her father died.
Gardeners like growing these flowers and herbs because of their beauty and much deeper meanings. Ophelia was a central character in Hamlet and was a virtuous, innocent person who was manipulated throughout the play's events by many other people. She was loyal to her father and brother, who tried to protect her, but her relationship with Hamlet led to her downfall. After her father dies, she is driven to insanity and commits suicide in Act 4, Scene 7.