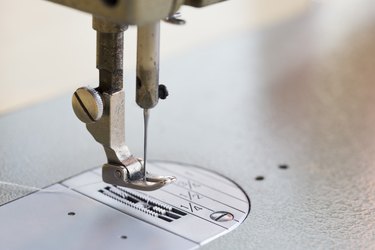 Pfaff sewing machines have several distinct characteristics that set them apart from machines made by other manufacturers. Here's how to know what type of machine you're using, as well as the model's year.
Serial Numbers
All Pfaff machines have a serial number, allowing the owner to determine what year the machine was made. For instance, machines manufactured in 1862, the first year of Pfaff machines, have 1 as their serial number.
Home Sewing Machines
Pfaff has several home sewing machine lines. The least expensive is the Hobby line, which does not need oil, and features a free arm and stitches up to 4 mm long. The Expression line features longer free arms and an LCD screen.
IDT System
Pfaff sewing machines come equipped with a walking foot, known as the IDT system. The walking foot keeps the fabric aligned when sewing and ensures even seams.
Embroidery Machines
Creative vision is the brand name for Pfaff's embroidery machines. The machines have a high resolution touch screen for selecting designs, a large embroidering surface, and LED lighting.
Overlock Machines
Pfaff Coverlock machines have either four or five threads. The machines feature a guide to thread tensions for each stitch, color-coded threading directions, and two needles. Coverlock 4.0 features an LCD screen.