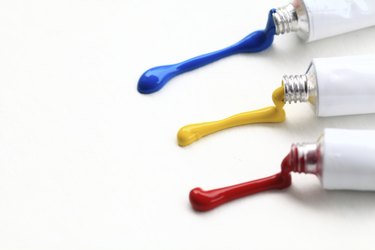 Acrylic paint is a water-based, non-toxic and quick-drying paint that can be used for many applications. Acrylics are easy to clean and opaque, which means you can correct mistakes just by painting over them. Depending on the type of acrylic paint, it's suitable for use indoors or outdoors and should last for the life of your product without fading or cracking.
Acrylic Paint for Crafts
Craft paint is the most common and inexpensive type of acrylic. It comes in a variety of colors, has a smooth and creamy consistency, and is suitable for most indoor craft projects, including wood, ceramics, paper, fabric, glass and canvas. Depending on the brand and finish, craft paints typically dry within a few minutes to a few hours.
Other types of acrylic craft paints are also available. Patio paint is a waterproof acrylic paint suitable for outdoor projects such as flower pots, rocks or lawn decorations. Puffy paint comes in small tubes and is used for writing or three-dimensional decoration. Specialty finishes, including metallic, glitter, chalkboard, fabric and glow-in-the-dark acrylic craft paint, are another option for crafters and hobbyists.
Acrylic Paint for the Home
Latex paint — it doesn't actually contain latex — is an acrylic-based paint and suitable for painting interior walls and ceilings or the exterior of your home. Latex paint comes in a variety of finishes from matte to glossy. Drying time will vary depending on finish, though most will be dry to the touch in about an hour. Allow paint to dry thoroughly before applying additional coats.
Although it will feel dry to the touch, latex paint will need several weeks to cure fully before it will stand up to stains or wear. Applying a coat of latex primer prior to painting will increase the durability of latex paint and keep the color truer.
Acrylic Paint for Artists
Acrylic paint for artists to use on canvas comes in a range of qualities and prices. Student-grade acrylic paints are less expensive, but have a lower quality and durability. Artist-grade acrylic paints provide better consistency and control when painting.
Fluid acrylic paint is used for fine or detailed work — it provides smooth edges and borders and dries within minutes so you can continue adding layers quickly.
Heavy-body acrylic paint is much thicker, making it good for dramatic brush strokes and more textured work. They are also suitable for color mixing because they dry more slowly, taking anywhere from a few hours to a week to dry.
Acrylic Mediums and Uses
A variety of acrylic-based mediums are used for various purposes with acrylic paint to achieve different effects.
Gel retarder is added to acrylics to slow drying time up to 50 percent.
Texture paste is added to acrylic paint to give it depth without using large globs of paint.
Metallic or pearlescent mediums give acrylics a metallic or shimmery finish while maintaining the color.
Matte or gloss varnishes are painted or sprayed over the top of a finished work to protect it from the environment.
Glaze medium is added to thin acrylic colors for transparent glazing over other dried colors.